© Official Whitsundays Local Website
Day Tours
Accommodation
Affordable Eating
Package deals
Free Activities
8 Ways To Discover The Whitsundays On A Budget 
Going on holiday can be expensive no matter what stage of life you're at. Whether you're backpacking, travelling as a family or couple, you want to get as much out of your holiday as possible, without spending a fortune. I've put together a quick guide on how to get the most out of the Whitsundays on a budget without compromising on fun or the main attractions themselves.
1. ZigZag Whitsundays Whitehaven Beach Tour
While you don't have to see every island and beach out on The Great Barrier Reef, there are a few you simply cannot miss! Luckily getting out to Whitehaven Beach won't break the bank as there's a whole day Whitehaven Beach Tour starting from just $159. The best part is, this tour includes a 90 minute snorkelling session, a guided tour along the south Whitehaven Lookout and comes with a delicious lunch.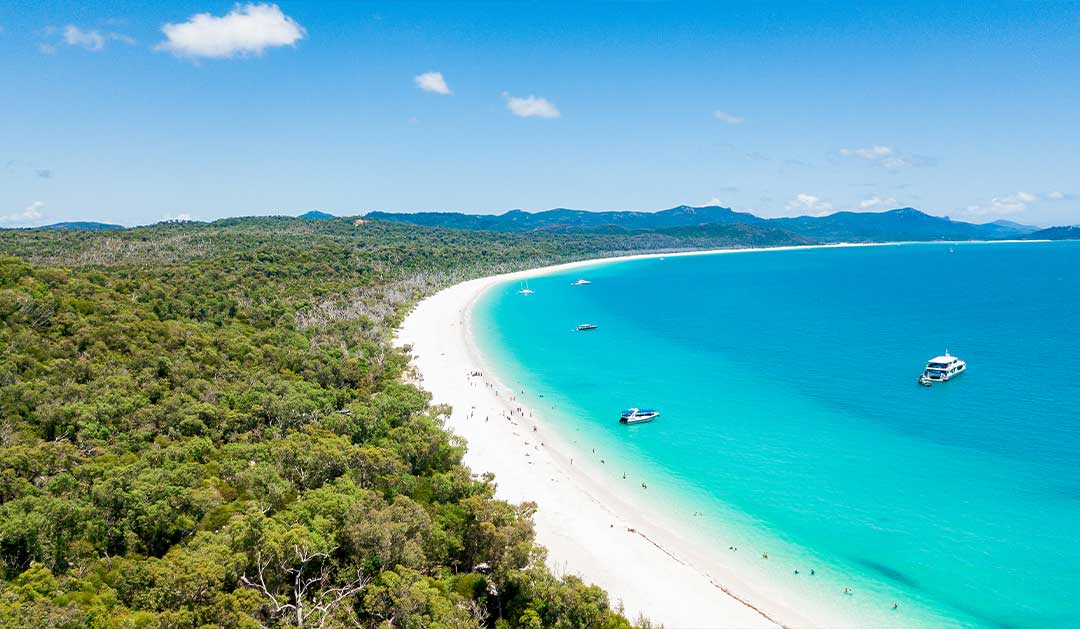 2. Cheap accommodation
No matter your budget, you'll find plenty of options for staying in Airlie Beach. There are multiple backpacker lodgers like Magnums or Backpackers by the Bay for maximum savings and caravan parks like Tasman Holiday Park with cabins and powered camping grounds available. There's also a host of units right in the heart of town like Paradise Court and Airlie Court Holiday Units with affordable pricing, so you won't struggle to find the perfect place for you while keeping your trip to the Whitsundays on a budget.
3.
Affordable Eats
If you're looking to cut down on food costs for your Whitsunday stay there's plenty of affordable meal choices in the area. From Beagles Pizza whose massive family-size pizzas will feed several adults to Rice and Noodle Airlie Beach with a huge variety of meals, there's lots to choose from. Also, keep an eye out for specials of the day at the many restaurants along the main street. Or if you're happy to cook, there's a Woolworths right in the centre of town to pick up supplies and plenty of free to use bbq's down at the Airlie Beach foreshore.
4. Package deals
If you want to take your Whitsunday holiday to the next level, try to see it from above! One of the best tips for seeing the Whitsundays on a budget is to purchase an Airlie Beach Scenic Flight Package. This awesome combo deal includes not only a full day trip out to Whitehaven Beach but also a 70 minute small plane ride to see some of the highlights of the Whitsundays, like the famous Heart Reef (no really, it's shaped like a heart!), the beautiful Whitsunday Islands coastline and many of the picturesque islands of the Great Barrier Reef.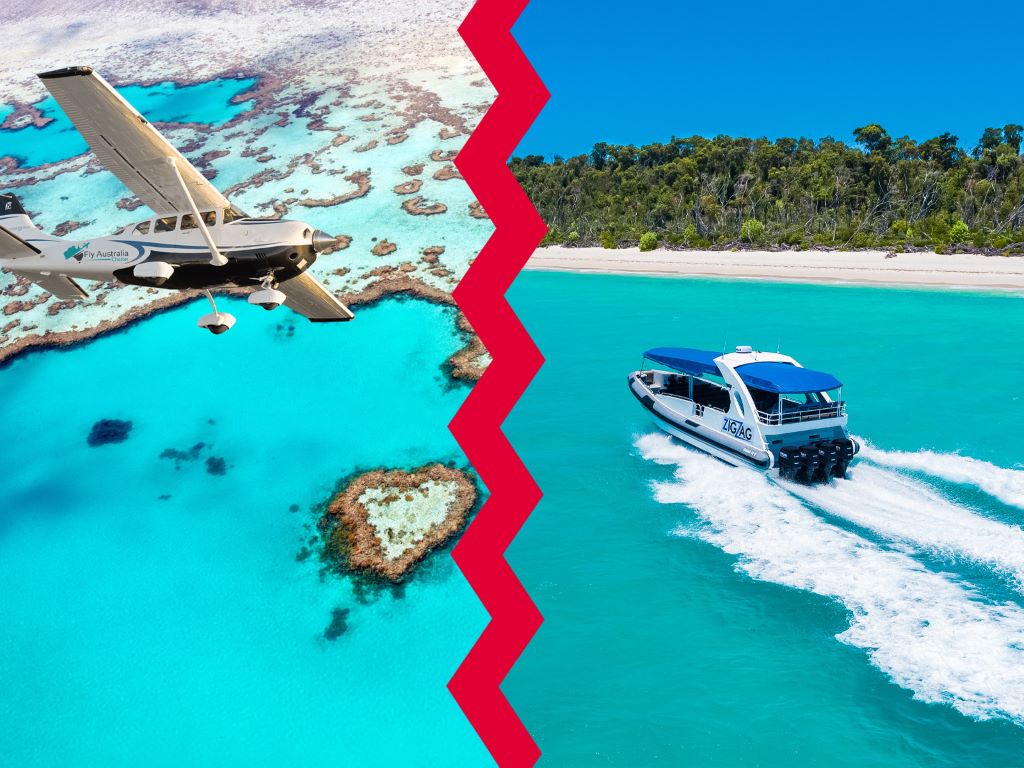 5. Enjoy the high life
Being out on the water isn't the only way to soak in the beautiful sights of the Whitsundays. There are a number of walks and hikes you can embark on to get the best views from the mainland. No car? No problem! The regular bus line can drop you off close to the starting points for these amazing walks. The Honeyeater trail starts right in town and is a 5km round trip but the views are well worth the effort. Or check out the Mt Rooper circuit down towards Shute Harbour for 360 degree views out over the Whitsunday Passage and surrounding islands, you won't be disappointed!
6. Glass Bottom Boat
Another great option for seeing the Whitsundays on a budget and the amazing fringing reef right off Airlie Beach is to take a Glass Bottom Boat Tour. Excellent for those who want to see the reef without getting their feet wet. Get an amazing view of the stunning coral and ocean wildlife living on the reef from the comfort of the boat, all without breaking the bank. With kids under 2 riding free and discounts for older children and families, this trip is a favourite for families.
7. Airlie Beach Lagoon
Our Whitsundays on a budget guide wouldn't be complete without mentioning one of the best free things to do in Airlie Beach, our beautiful man-made Lagoon in the heart of town. The Airlie Beach Lagoon is completely free to use and has all the facilities to allow you to spend a few hours or the whole day relaxing in the sun and water. Surrounded by picnic spots, bbq areas, kids playground and a range of restaurants and cafes, a trip to the Lagoon is too good to pass up.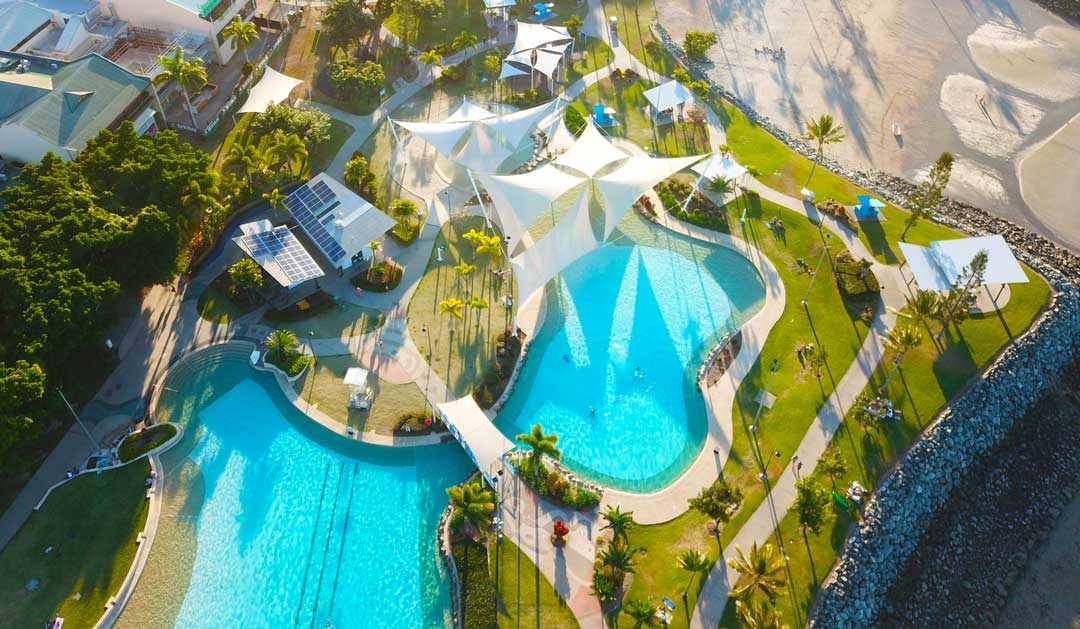 8. Stand Up Paddle Board
If you're searching for cheap things to do in Airlie Beach that are still loads of fun, don't miss out on a morning or afternoon session out on a Stand Up Paddle Board. No previous paddle boarding experience is necessary to go out and have a blast on the water, you'll be given all the equipment and a rundown on how to use them when you get there
There you have it, the best of the Whitsundays on a budget! Follow this guide and you'll balance awesome experiences with great savings on your holiday to the Whitsundays.
After even more activities to jam-pack your trip to the Whitsundays? We've got you covered! Check out our recommendations for the Top Ten Things to do in the Whitsundays
Sophie M
Whitsundays local content writer
Sophie M is a Content Specialist living in Airlie Beach Whitsundays. You can find her 'researching' her next content piece by exploring the beautiful Great Barrier Reef and the mainland with her two boys
As always if you have any questions about  any regional information, you can head over to our FAQ page or contact us on 07 4813 9007 or bookings@zigzagwhitsundays.com.au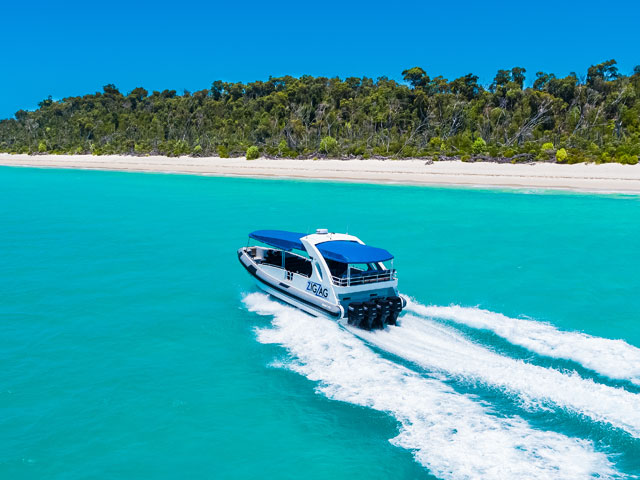 DAY TRIP WITH ZIGZAG WHITSUNDAYS
ZigZag Whitsundays day tour checkin starts at 7.50 am and the trip returns at 4 pm, The tour visits Whitehaven Beach and the southern lookout, you will also get an opportunity to snorkel around the islands.
As we depart early and return later, you get more time on the water, and more locations visited than any other Whitehaven Beach Tours from Airlie Beach.
In 2020 the boat was refitted with high back padded seats making sure our guests have a comfortable safe ride every time! 
Dynamic Pricing
The only Whitsundays Day Trip with Dynamic Pricing, Tickets Start At Only $159
Comfortable Boat Ride
Comfortable Ride With More Destinations And More Time At Them
Everything Included
Our Tour Is Fully Inclusive Of  Lunch Snacks Snorkel Equipment and Wetsuit.