Departing Airlie Beach
Whitehaven Beach
South Whitehaven Lookout
 Snorkel Locations


ZigZag Whitsundays Whitehaven Beach Tour departs every day from Coral Sea Marina in Airlie Beach at 8am. Touring Whitsunday Island, you will discover a genuine paradise with a shoreline renowned for its feather-soft, 97% pure silica sand. Every day our guests are surprised by just how remarkable this 7km length of protected waterfront is. The world-famous Whitehaven beach is a part of the Whitsunday Islands National Park in Queensland. Due to it being situated away from the mainland and the wider community, its natural beauty is left unscathed.
4 Different Tour Options To See Whitehaven Beach
There are only 4 ways to discover Whitehaven Beach on a tour
Boat
Scenic Flight
Helicopter
 Seaplane
First, let's explore the boat option with ZigZag Whitsundays Day Tour
ZigZag Whitsundays Whitehaven Beach Tour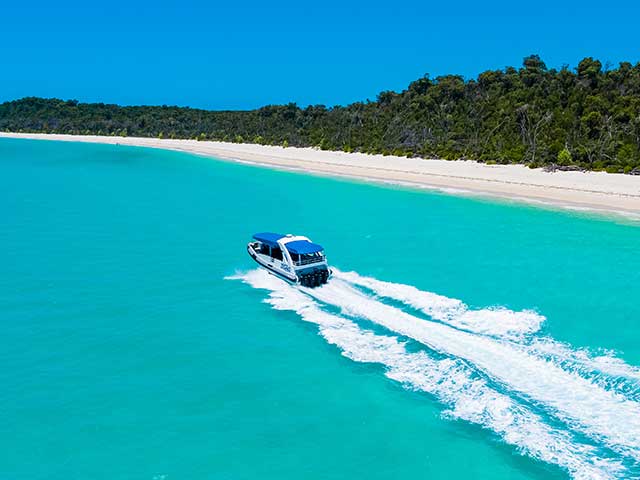 This is no ordinary boat, powered by FOUR 300hp Suzuki Engines the boat is fast and yet extremely comfortable with highback padded seats. Seasickness is virtually eliminated as the boat rides on top of any waves,  no rocking side to side whatsoever, making this Whitsundays day trip perfect for any guest worried about feeling sick on the ocean. ZigZag Whitsundays day tour to Whitehaven Beach has stairs folding down from the front, this is the perfect boat for beach landings.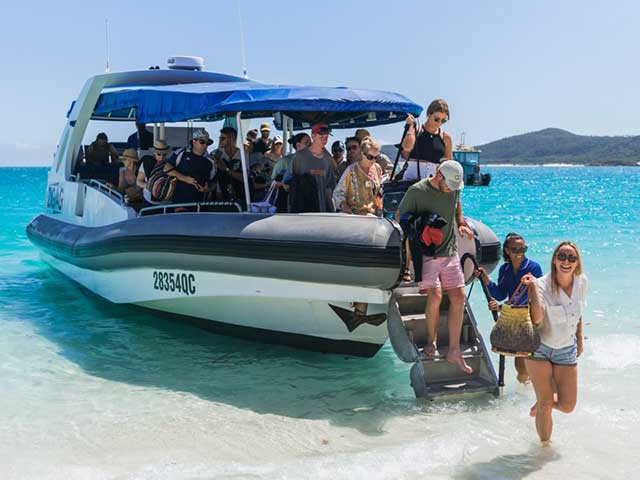 ** Note – this is a general itinerary there are a lot of factors that can change this including tides and wind. ZigZag Departs Coral Sea Marina|Resort in Airlie Beach. Our meeting time is 8 am sharp. Departing from Coral Sea Marina we head to the snorkel location for around 90 minutes. Then off to Whitehaven Beach for lunch and a guided walk to the south Whitehaven lookout. The tour returns back at Coral Sea marina at 4 pm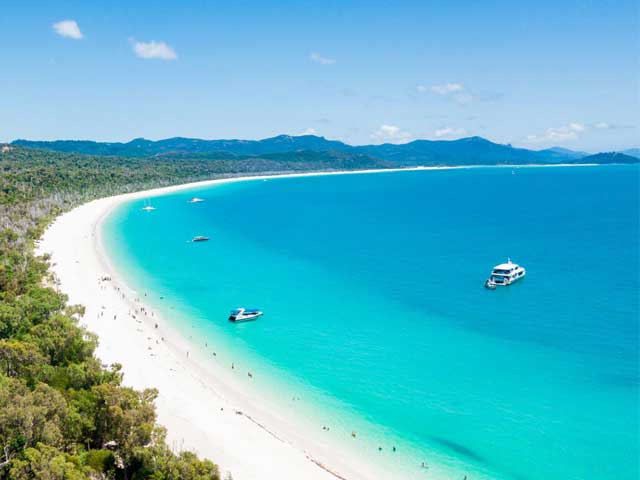 ZigZag Whitsundays Whitehaven Beach Tour tour will spend around 2 hours discovering the new south lookout and the beach. This Beach is continually voted Australia's number 1 beach in the Trip Advisor awards. The beach is 7 km long and holds some of the purest silica sand in the world totalling around 98.7%. ZigZag will make sure you get away from the daily crowds and have plenty of time to explore with family and friends. When the boat first pulls up to Whitehaven, you will be served a cold buffet lunch.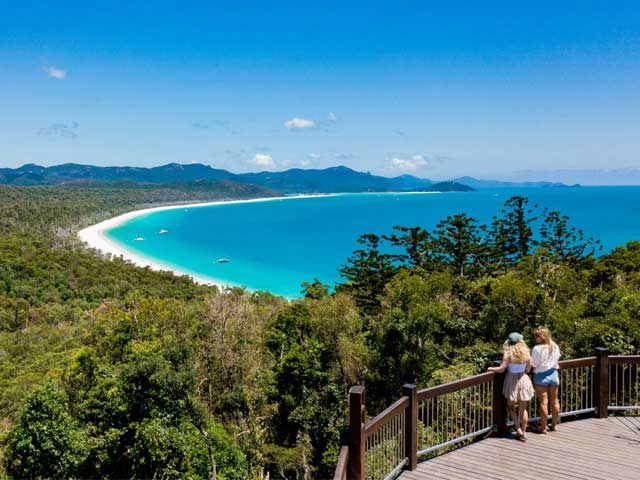 The new South Whitehaven Lookout opened in 2019.
In one direction you will see a spectacular view down the entire 7 km of Whitehaven Beach, and in the other direction, you will see the open ocean and islands leading back to the mainland.
The walk is around 45 mins return (including time at the top) and is beginner grade and you will need a level of low-medium fitness.
In my personal opinion, the South Lookout delivers more wow factor every day of the week while the Northern lookout highly depends on tides and is overcrowded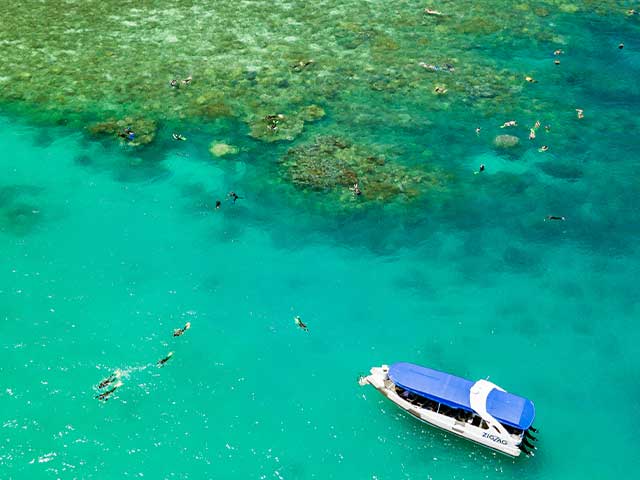 Snorkelling In The Whitsundays
Whether you have snorkelled before or this is your first time, the Whitsunday Islands are perfect for beginners and advanced alike. With the coral reefs sheltered from wind and tide and most coral starting only meters from the beach, this is the ideal location for the whole family to see lots of marine life like turtles and Nemo (clownfish) in a natural environment. On our Whitsundays Day Trip all the snorkelling equipment, including wet suits are provided along with flotation devices if needed. The qualified crew will watch over everyone on rescue boards so you can feel safe and enjoy the best coral and tropical fish the Whitsunday region has to offer.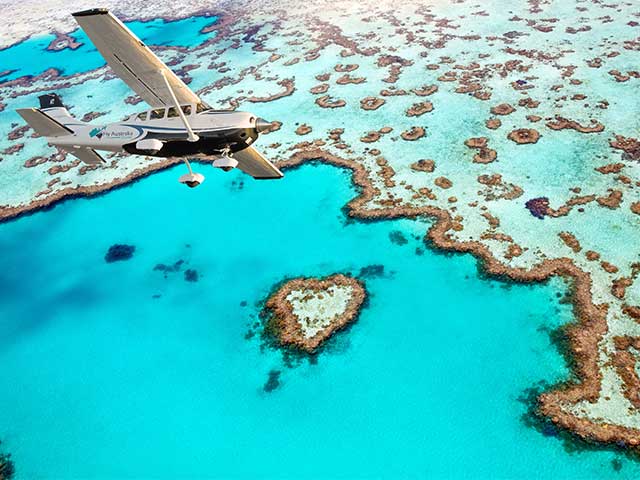 Whitsundays Scenic Flight
After 20 years in the Whitsundays, this scenic flight still takes my breath away every time! Fly Australia Charters operates 70-minute scenic flights daily over Whitehaven Beach, the Great Barrier Reef and Heart Reef.
Taking only 5 guests on the tour feels more like a private charter flight; everyone gets a window seat and a headset to talk with each other. The flight departs from Whitsunday Airport, 5 minutes from Airlie Beach, and you will fly over Whitehaven Beach twice as well as the Whitsunday Islands outer reef and the world-famous heart-shaped reef. You will get a fabulous discount for this tour because you are reading this page and we are a local Whitsunday business.
Book Direct with Fly Australia Charters and get up to $100 off per person! For Bookings and all their Airlie Beach Scenic Flight Options Click Here
Use The Code ZIGZAG for each person at checkout.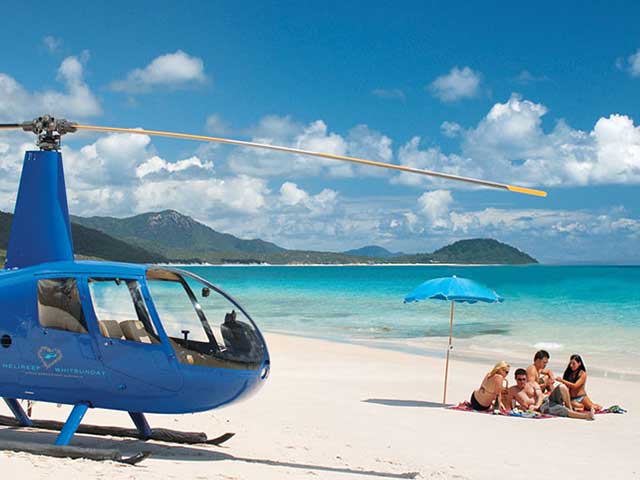 Land on Whitehaven By Helicopter 
Although more expensive than the rest of the Whitehaven Beach Tours, getting your own helicopter to land on Whitehaven Beach is something very special!
Helireef operates helicopters all around the Whitsundays and has a special tour dedicated to this amazing beach. you will get a 2 hour round trip including 90 minutes on the beach away from the crowds.
Prices are $399 per person for a minimum of 2 and if you have a 3rd passenger they only pay $149
I recommend booking directly through their website which you can find here
This is a "Once In A Lifetime" tour, if you have the money don't pass this up.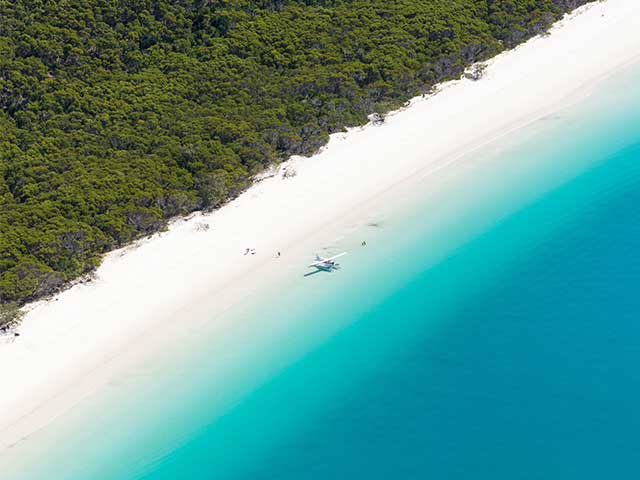 What could be better than a water landing right at Whitehaven Beach ? Air Whitsundays operate seaplanes from Whitsunday Coast Airport which is 30 minutes away from Airlie Beach.
Their Island Explorer tour is a scenic flight of the islands and lands on the coral sea beside the beach.
This is what you get on the tour
Return Seaplane Flight to Whitehaven Beach

Views of the Whitsundays, Hill Inlet, & Whitehaven Beach

Snorkelling Tour on our private vessel

Three-course lunch at Whitehaven Beach

All activities & equipment included
Where is Whitehaven Beach ?
Whitehaven Beach is located on the southeast corner of Whitsunday Island, Queensland, Australia.
The closest population is on Hamilton Island and the coastal town of Airlie Beach (gateway to the Whitsunday Islands).
The island is all protected National Park, there are no houses or accommodation on the island so, the only way to get there is by boat, helicopter or seaplane.
Tours depart Hamilton Island and Airlie Beach, both these locations have an airport with flights daily from Brisbane, Sydney and Melbourne.
10 Facts about Whitehaven Beach
1. Unlike most beaches in the world Whitehaven is made of 98% pure silica sand, which gives the beach a stunning white colour.
2. The whiteness of the silica sand makes the sand cool to touch even on the hottest days, walking barefoot is a breeze.
3. The rocks around the beach contain no silica, meaning all this sand was washed here by tides thousands of years ago.
4. All of the plants and animals are the same as you find on the mainland because the Islands haven't been separated from the mainland for long enough for any kind of evolutionary changes to happen
5. The Whitsunday Islands and Whitehaven tend to have not as dense growth and dryer conditions as those surrounding Airlie Beach – like Conway National Park because they don't see as much rainfall as the mainland.
6. There are 10 dedicated campsites at the south end of Whitehaven Beach that takes a maximum of 36 guests and 6 long drop toilets.
7. In 2019 the new South Whitehaven Beach lookout opened at the south end of the beach, unlike the famous northern lookout, the views at the south are stunning no matter what the tide is doing, and you can see over the eastern side of the Whitsunday passage
8. Whitehaven Beach stretches over 7km with the inlet at one end and a rocky outcrop  just before a passage at the south end
9. On the far northern end lays the famous inlet with swirling sands pictured at low tide. Across the inlet from Whitehaven beach is Bettys Beach, whilst technically not Whitehaven it holds the exact same silica sand
10. This 7km Beach is the most photographed and awarded beach in Australia, continually in the top 10 beaches in the world and revisiting the number 1 spot in the 2021 TripAdvisor awards
Whitehaven Beach Tour FAQ
WHERE DOES ZIGZAG WHITEHAVEN BEACH TOUR DEPART FROM ?
ZigZag departs from Coral Sea Marina North End Village at meeting point B. You need to be at this meeting point at 8 am
WHAT IS INCLUDED ON THIS WHITEHAVEN BEACH TOUR ?
Snacks, Lunch, Wetsuit, Mask, Snorkel, Fins, Windproof Jacket, Drinking Water (bring your own bottle)
WHERE DOES THE TOUR GO?
Whitehaven Beach, South Whitehaven Lookout, Snorkel Locations,
DOES WHITEHAVEN BEACH HAVE TOILETS?
There are toilets at the south end of Whitehaven Beach that are self-composting (long drop). The boat ZigZag also has an onboard bathroom.
DOES WHITEHAVEN BEACH HAVE STINGERS ? (JELLYFISH)
Part of living in North Queensland is marine stingers or "jellyfish" the months from October to May are stinger season. We do always recommend using a stinger suit during these months.
CAN YOU STAY AT WHITEHAVEN BEACH?
Yes! there is a campsite at the south end of Whitehaven beach, however, you will need to take drinking water and your food for the length of your stay, the only facilities provided are composting toilets.
WHY IS WHITEHAVEN BEACH SO WHITE ?
Whitehaven Beach is created from 98% silica, this silica makes the sand an extraordinary white colour and an unusually light texture feel. To this day no one including scientist now where this sand originated from.
WHERE IS WHITEHAVEN BEACH?
Whitehaven Beach is located on the eastern side of Whitsundays Island Queensland Australia 4802
HOW LONG IS WHITEHAVEN BEACH
The beach officially measures just over 7km long.
WHY IS WHITEHAVEN BEACH FAMOUS ?
There are a few reasons, surrounded by tropical islands, not on the mainland with no roads to access the beach means it's uninhabited and of course, The white sand is different from other beaches with its white powdery silica sand and crystal clear waters.
HOW FAR IS THE SOUTH LOOKOUT WALK
This walk is 900 meters in each direction, its normally a 45 minute round trip including time at the top
WHY IS IT CALLED WHITEHAVEN BEACH
The beach was identified and discovered in 1879 by Staff Commander EP Bedwell. Whitehaven Beach was named after an English town of the same name.
WHAT CAN I TAKE ON THE TOUR
In a small daypack, it's best to pack sunglasses, suntan lotion, a towel, and swimmers. No large bags or suitcases are allowed onboard
Do you cater for Vegans etc ?
Yes, we cater for, Vegans, Vegetarians, Gluten-Free, Lactose-Free. there will be a question about diets at the time of booking.
HOW FAR IS WHITEHAVEN BEACH FROM AIRLIE BEACH
The distance by boat from Airlie Beach To Whitehaven Beach is 27 nautical miles.
SHOULD I BOOK WHITEHAVEN BEACH TICKETS IN ADVANCE
Yes especially if you are visiting during school holidays as these tours can book out a week in advance. ZigZag Whitsundays Day Tour also offers cheaper tickets to those who book early.
In Summary, a Whitehaven Beach Tour should be on everyone's list visiting the region. Here at ZigZag, we see a boatload of happy guests when we reach the beach every day, but the only way to see for yourself is to book one of these tours.
As always if you have any questions about ZigZag Whitsundays Tour , you can head over to our FAQ page or contact us on 07 4813 9007 or bookings@zigzagwhitsundays.com.au
ZigZag Whitsundays Whitehaven Beach Tour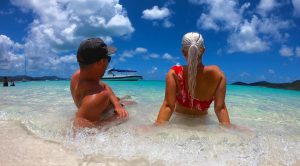 Discover 4 Different Whitehaven Beach Tours Including ZigZag Whitsundays Day Tour By Boat, Helicopter, Seaplanes and Scenic Flights. Book Direct Here Today
Product Brand: ZigZag Whitsundays
Product Currency: AUD
Product Price: 159
Price Valid Until: 2023-04-01
Product In-Stock: InStock
Dynamic Pricing
The only Whitsundays Day Trip with Dynamic Pricing, Tickets Start At Only $159
Comfortable Boat Ride
Comfortable Ride With More Destinations And More Time At Them
Everything Included
Our Tour Is Fully Inclusive Of  Lunch Snacks Snorkel Equipment and Wetsuit.