Location
North End Abell Point Marina
Shingley Drive, Airlie Beach
Book Your Tickets Today And Save
ZigZag Whitsundays
YOUR #1 WHITSUNDAYS DAY TOUR
ZigZag Whitsundays Day tour
 is your number one choice for visiting the Whitsundays. No other trip can match our boat speed, amount of locations visited, friendly tour guides or all inclusive price. We visit the incredible Whitsunday Islands including Whitehaven Beach the holy grail of white sands and clear tropical waters. Two different snorkel locations, and yes, we supply high-quality equipment including wetsuits. Plus we do what no other tour can do, or has time to do; we visit Palm Bay Resort on Long Island, this small boutique tropical resort is the perfect way to end a day with a cold drink and a swim in the pool.
The Whitsunday Islands are one of the last genuinely unspoiled regions on the East Coast where natural attractions are a prelude to complete relaxation. Pristine and beautiful in every way, this region comprises of 74 islands in total and stretches along the coast from Mackay to Bowen. Although extremely remote, you can reach this paradise on ZigZag's Whitsundays Day Trip and explore everything this coastline has to offer.
ZigZag is a 39ft Naiad with four engines totalling 1200 horsepower. Giving us a cruising speed of 24knotts and a top speed of 48knotts. This makes the vessel a fast, yet extremely comfortable ride is allowing guests of all ages and adventure levels to participate.
Fast Fun Whitsundays Day Trip With ZigZag
The Boat – ZigZag has four 300 Suzuki engines totalling 1200 horsepower making it the Whitsundays fastest boat! and with comfortable padded bucket seats, you will have a quick, smooth ride with no seasickness
–
Whitehaven Beach –  You get 90 -120 minutes to explore this remote beach on Whitsunday Island. Our permit allows us to pull up to the beach and take off from the beach. No walking for kilometres through the bush to get there!
–
Two Snorkel Locations- We pick the very best snorkel locations for the day. Our experienced crew read all weather and water conditions to find clam clear waters with plenty of coral and tropical fish below
–
Island Resort – ZigZag is the only tour allowed into the exclusive Palm Bay Resort on Long Island. Here you can purchase a cold drink or cocktail and swim in the resort pool
–
Our Crew – Trained by a marine biologist, the crew have over 20 years combined knowledge of the area. Our team are hand-picked on their people skills, and this shows in all our online reviews
–
Dynamic Pricing – ZigZag is the only dynamic priced tour in the Whitsundays. We sell our tickets like airlines, the price starts at $115 and as the tickets sell out the price increases to $125 $145 and $175 for the final tickets. Book Early and Save!
–
Reviews – Read our reviews, they speak for themselves, you can find them below, Tripadvisor and google. We have a 4.9 / 5 average rating for our tour. We encourage you to read them.
BOOK YOUR WHITSUNDAYS DAY TRIP
Video Introduction To Our Tour
Day Tour Pricing And How It Works
ZigZag's Whitsundays Day Tour is different from the rest in the way of pricing. We base our model on Dynamic Pricing. This means we set flexible prices on our product based on current market demands. When setting our Dynamic Pricing we take into consideration, day of the week, weather forecast of the day, the number of days before the tour, how many seats are filled, high and low season, school holidays.
Pricing Example –  Once $115 tickets sell out the price moves to $125, then $145 and finally $175. There is absolutely no difference between ticket price and which seat you get on the boat. The earlier you book the cheaper the ticket. Your price will never change after you purchase the ticket. 
Please Note – There are child age restrictions of 5 years or older on this tour. This is a safety issue, no children under 5 years will be allowed onboard the boat without calling us by phone and getting consent.
Once the allocated number of tickets are sold the next price is available until the boat has reached its maximum occupancy. With all these factors taken into consideration ZigZag reserves the right to change seat pricing allocations to meet the demands or non-demand of our product.
Professional, slick, world class crew in Joc, Kaley and Will - amazing snorkelling, gorgeous Whitehaven beach, turtles, swimming in crystal... read more clear waters - exhilarating rides - Palm Bay resort to relax - WOW! Just Wow!😊⛸🌟🌟🌟🌟🌟🌟🌟🌺🌺🌺⭐️⭐️⭐️⭐️🌸

Victoria Grace

26/12/17

This is the second time we have visited the Whitsundays in three months and this was by far our favourite... read more tour! The fast boat means more time at your stop offs and the guides were really interactive and helpful. My mother and father in law are visiting Australia for the first time and are quite nervous about the water. They had never snorkelled and weren't willing to get into the water but at the end of the day when asked what their highlight was they said 'snorkelling!' Great job guys we had a fantastic day!

Lauren Jade Atkinson

23/12/17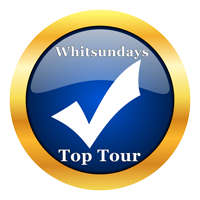 WHITEHAVEN BEACH + 2 SNORKEL LOCATIONS + ISLAND RESORT
—
DYNAMIC PRICING  FROM $115 TO $175
Book Online Now
BOOK YOUR WHITSUNDAYS DAY TRIP
Your ZigZag Whitsundays Day Tour Itinerary
Your tour with ZigZag Whitsundays 
day trip
 will depart from Abell Point Marina at 8.30am. From the marina, we will head out to the Whitsunday Islands for a snorkel at one of the sheltered bays filled with coral and tropical fish. Next, we will visit Whitehaven beach where you will be served lunch and have plenty of time to explore Australia's number 1 beach.
Taking off for the next location we will head over to another snorkel location which has a beautiful beach to relax on. On the way home, we will be stopping at a secret island resort for 45-mins where you will get the opportunity for a cold cocktail, beer or orange juice and a look around this amazing tropical resort before we head back to Abell Point Marina for a 5 pm arrival.
Please note while we try our best to keep the same itinerary, factors like tides and wind can mean the crew may have to reverse a few location times.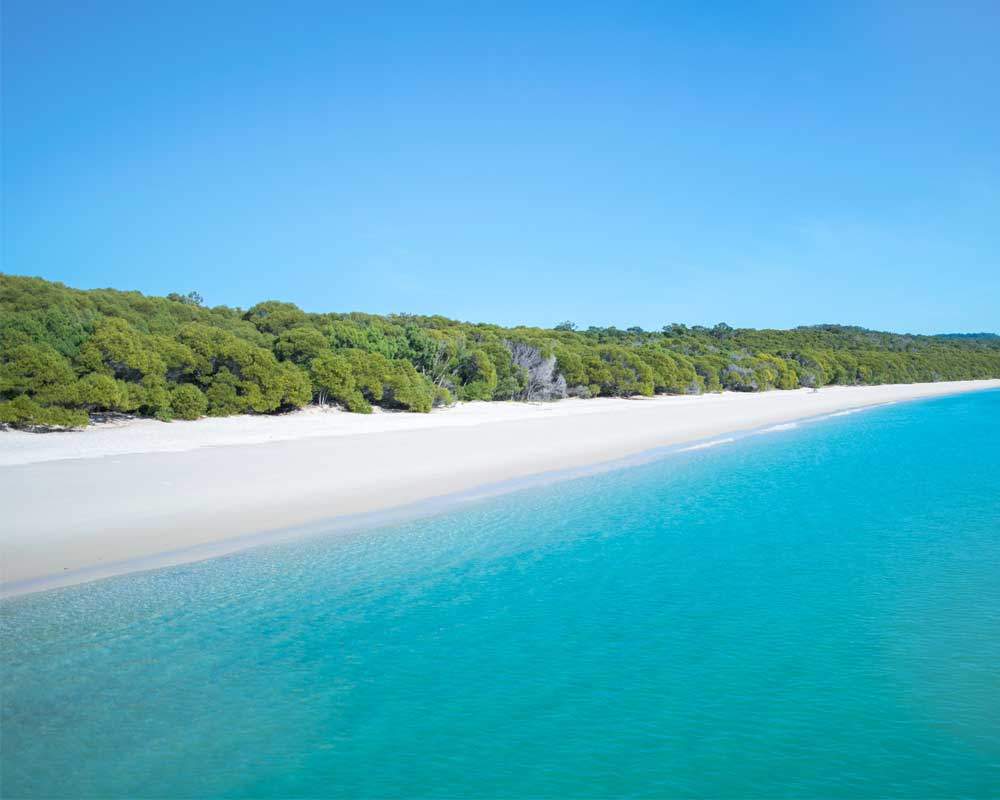 Whitehaven Beach
Few places in the world are so isolated or infused with as much natural beauty as Whitehaven Beach on the East coast of Australia. Far from the bustling city and toxic fumes, this awe-inspiring stretch of white powdered sands is a paradise where pure tranquility is surrounded by a stunning expanse of turquoise blue water.
Offering unique encounters with wildlife, sublime scenery and surprisingly cool sands on which to thread, every adventure to Whitehaven Beach is simply an unforgettable and long lasting experience.Our ZigZag Whitsundays day tour will give you plenty of time to explore this truly amazing 7km long beach during your Airlie Beach Day Trips.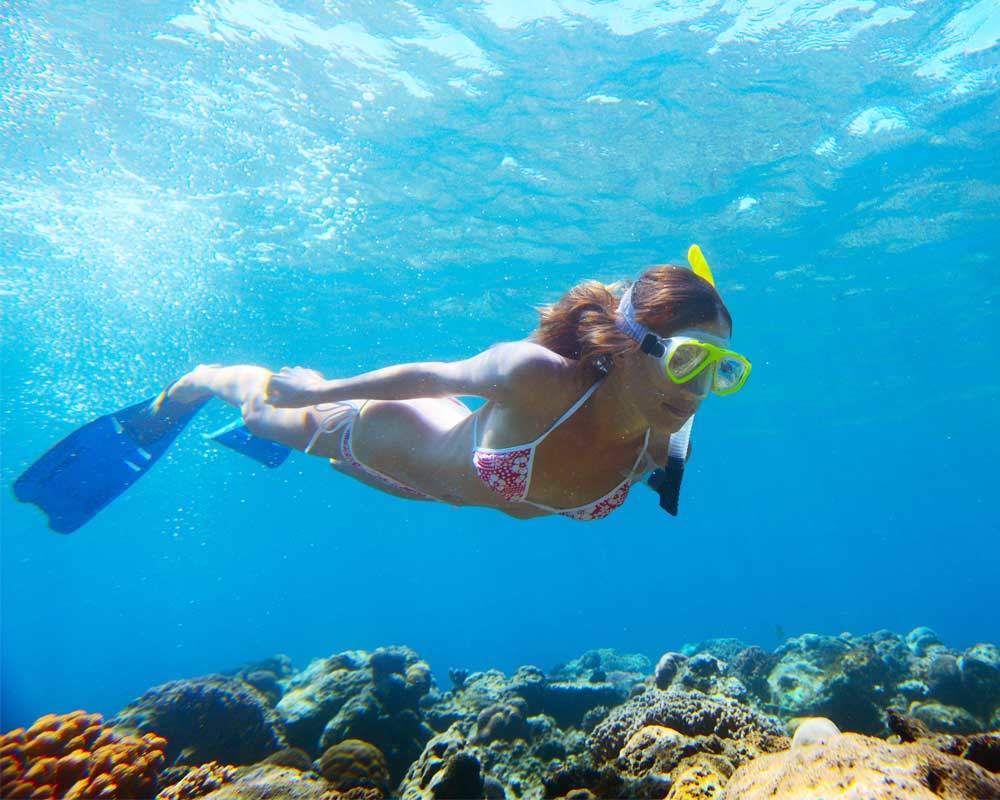 Snorkel
ZigZag Whitsundays day tour includes 2 different snorkel locations during your day on the water.
Our qualified crew always pick the best locations that suit the conditions for snorkeling on the day. These locations can include Blue Pearl, Bay Luncheon Bay, Border Island and Chalkies bay. These tropical waters are part of the Great Barrier Reef Marine Park and are filled with tropical fish and turtles all year round.
The coral reefs are sheltered by the islands and have a large diverse range of stunning colours and vibrant sea life. We cater for all swimming abilities and have flotation devices if needed.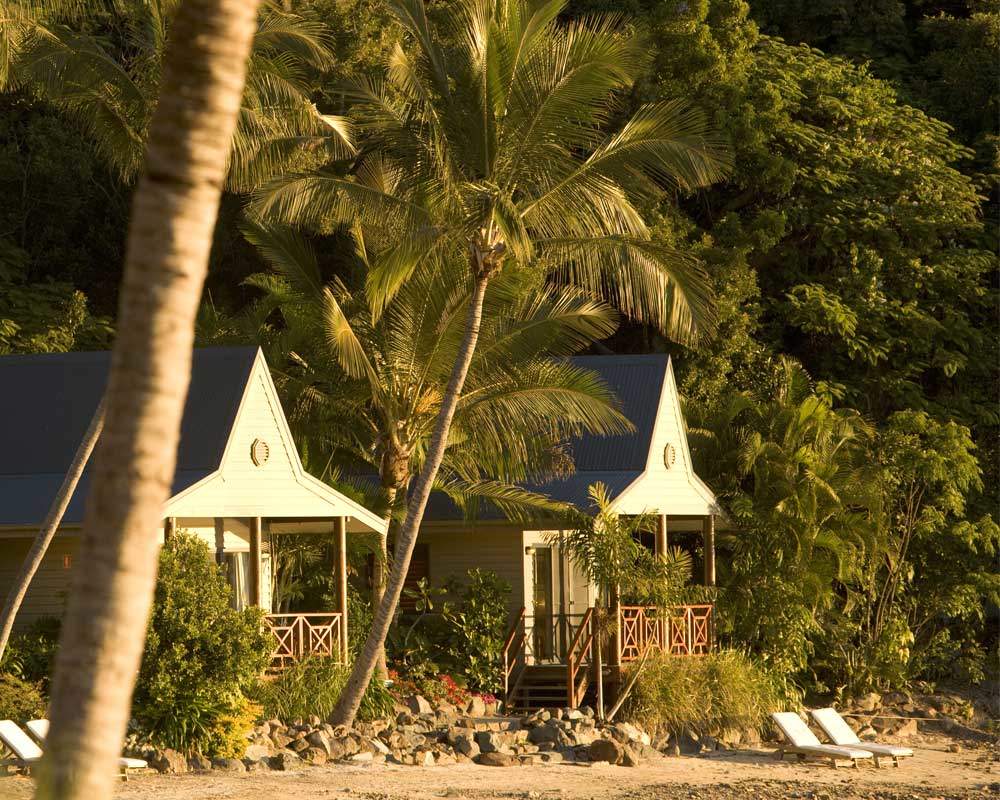 Palm Bay Resort
ZigZag is the only day tour to have access to Palm Bay Resort. This small secluded resort is on nestled between the rainforest and beach on Long Island
Our tour visits the resort in the afternoon for around 45 minutes. You will get to swim in the pool or have a cold drink or cocktail at the bar.
For guests staying at Palm Bay, we can pick you up from the front beach of the resort. Bookings for guests staying at the resort must be made through the island reception and not our website.
Our Full Day Tour Includes

Bathroom On The Boat

Snorkel Equipment

Wetsuit

Lunch Plus Snacks
When does the tour Depart?
The tour Departs every  Monday, Tuesday, Thursday, Friday, Saturday and Sunday @ 8.30am and returns around 4 pm to 4.30 pm from Abell Point Marina in Airlie Beach. We run Everyday in school holidays
–
Meeting time – Is 8 am sharp at Abell Point Marina North End Roundabout for directions, please see this map to our Whitsundays Day Tour Meeting Point 
–


Do you have a pickup service? 

No – with our dynamic pricing we pass the savings onto you by not having a pickup service.
–
What should I Bring? You should bring sunscreen, hat, towel, cash or credit card (for drinks at Palm Bay Long Island Bar)
–
Can I buy anything on tour? 

The only purchases are when we stop in at Palm Bay island resort in the afternoon, and there is an opportunity to buy a few cold drinks.




–

Where Does the Whitsundays Day Trip Go? The Tour itinerary can change due to tides and weather conditions, but we usually visit two separate snorkel locations, stay on Whitehaven Beach for around 90 minutes and visit Palm Bay Long Island Resort in the afternoon
–
Pick Ups From Palm Bay Resort  

We do pick up guests from Palm Bay resort for the tour. However, 

all bookings must be made through Palm Bay Resort on Long Island.  Dynamic pricing does not apply to any pickups 

and drop-offs 

from the resort.
–
I'm visiting Airlie Beach for the day on a cruise ship can I do the tour? Unfortunately no. There is no cruise ship terminal here. The thousands of guests on the ship are transported to the mainland in small ferries. This can take up to two hours each way, not leaving enough time to board or return from our tour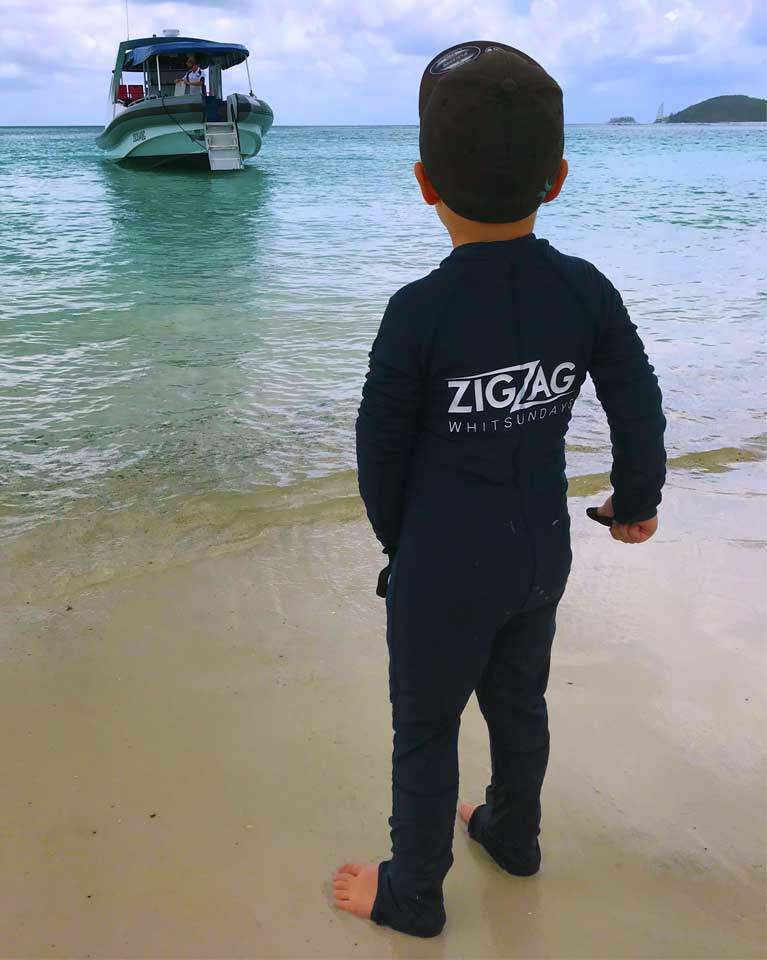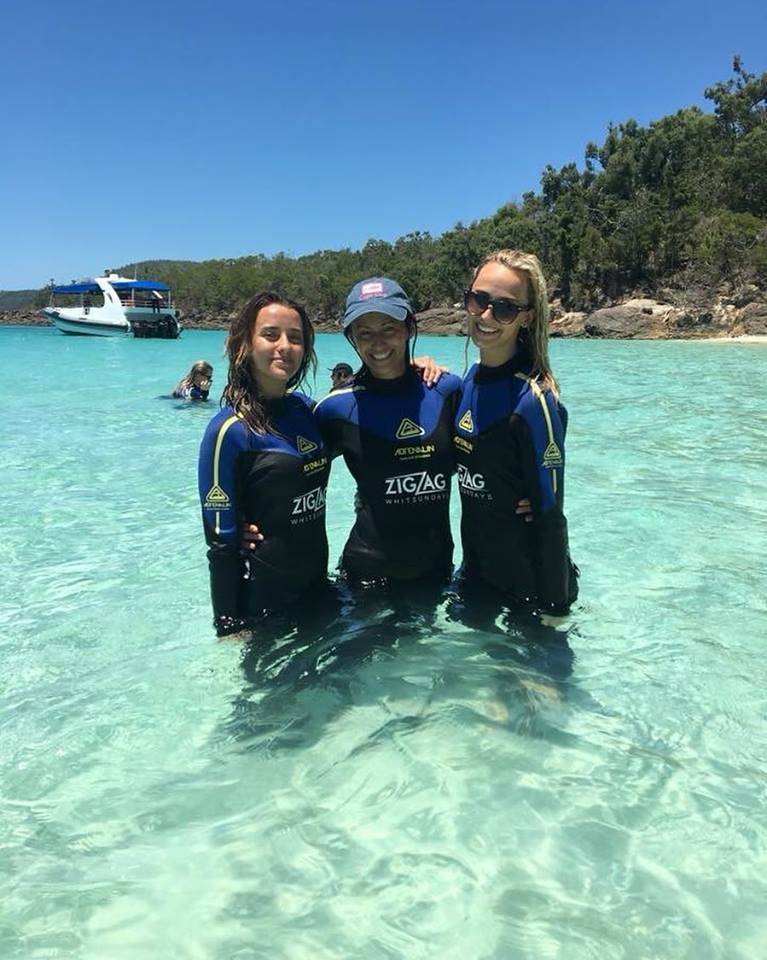 Book yOUR wHITSUNDAYS dAY tRIP
Dynamic Pricing
The only Whitsundays Day Trip with Dynamic Pricing Tickets Start At Only $105 
Fast Boat Ride
1200 Horse Power Means a Fast Comfortable Ride With More Destinations And More Time At Them
Everything Included
Our Tour Is Fully Inclusive Of Lunch Morning Tea Afternoon Tea Snorkel Equipment and Wetsuit.
ZigZag Whitsundays is a locally owned and operated company. Owners Ben ( Boat Mechanic)and Nicole (Marine Biologist) are dedicated to giving you the best tour in Airlie Beach
ZigZag Whitsundays
Abell Point Marina
Shingley Drive
Airlie Beach QLD 4802
bookings@zigzagwhitsundays.com.au