© Official Whitsundays Local Website
Facilities
Close Accommodation
Cafes And Restaurants
Car Parking
Activities
The Airlie Beach Lagoon is a free 4300 sqm swimming area (pool) loaded with 4.5 million litres of fresh self chlorinated water on the foreshore of the main road in Airlie Beach, Queensland Australia.
This enormous swimming area is a favourite hangout for holidaymakers and residents on the warm, humid days experienced in the region most of the year in North Queensland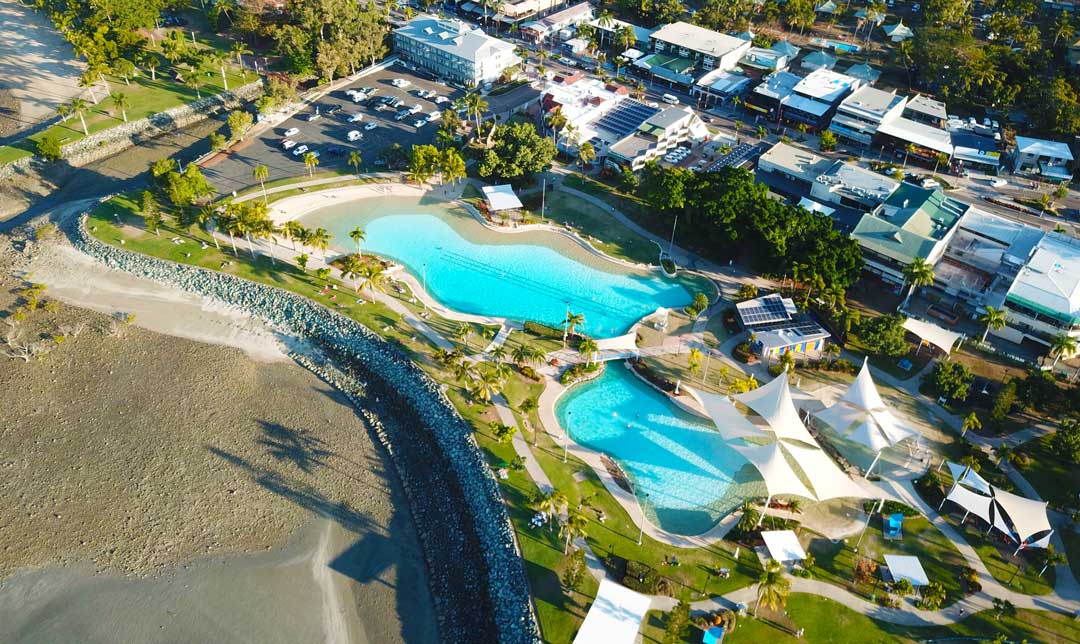 Facilities At The Airlie Beach Lagoon
The swimming lagoon offers a place to bath without worrying about marine stingers and is perfect for family gatherings with entertainment areas, the facilities include (and they are all free!)
Bathrooms
Changing Rooms
Coldwater showers
Swimming Fitness lanes
Deepwater swimming (up to 2 meters)
Shallow water (for non-swimmers and children)
Infant Pool
Children's playground
Free Gas Bbqs
Undercover Shelters for picnics
Soft Green grass for sunbaking
Trees with shade
Onsite Lifeguards from 6 am to 6:30 pm every day of the year
The large open pool area is split into 2 halves that are joined by a narrow bridge (you can swim under it) the north end is more set up for children and entertainment areas with Bbbqs and undercover seating, and the southern end of the Airlie Beach Lagoon is the larger side and normally has mostly adults and sunbakers.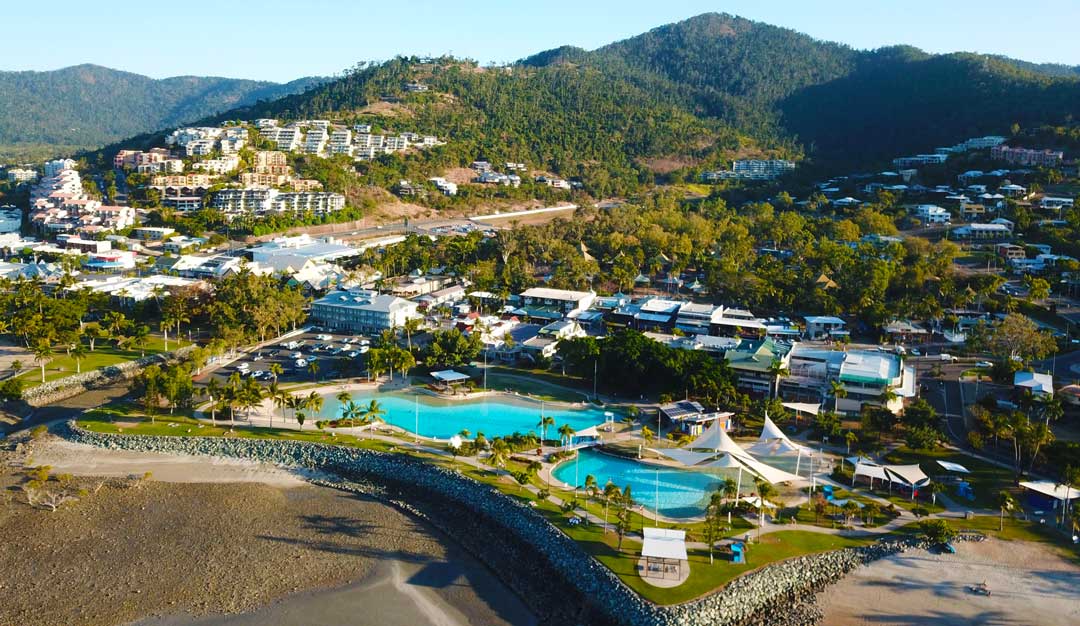 What accommodation is near the swimming lagoon?
this is a popular question for families staying in Airlie Beach as the lagoon can be the highlight of your child's trip, while Airlie Beach is a small seaside town most holiday accommodation is within 5 – 20 minutes walking distance to the Airlie Beach Lagoon. here are the 10 closest hotels and holiday accommodation
Whitsundays On the beach (gate through to the lagoon)
Heart Hotel
Coral Sea Resort
Magnums accommodation
Nomads Airlie Beach (backpackers)
Airlie Beach Hotel
Waters Edge Resort
Airlie Waterfront Bed and Breakfast
Waterview Airlie Beach
Whitsunday Reflections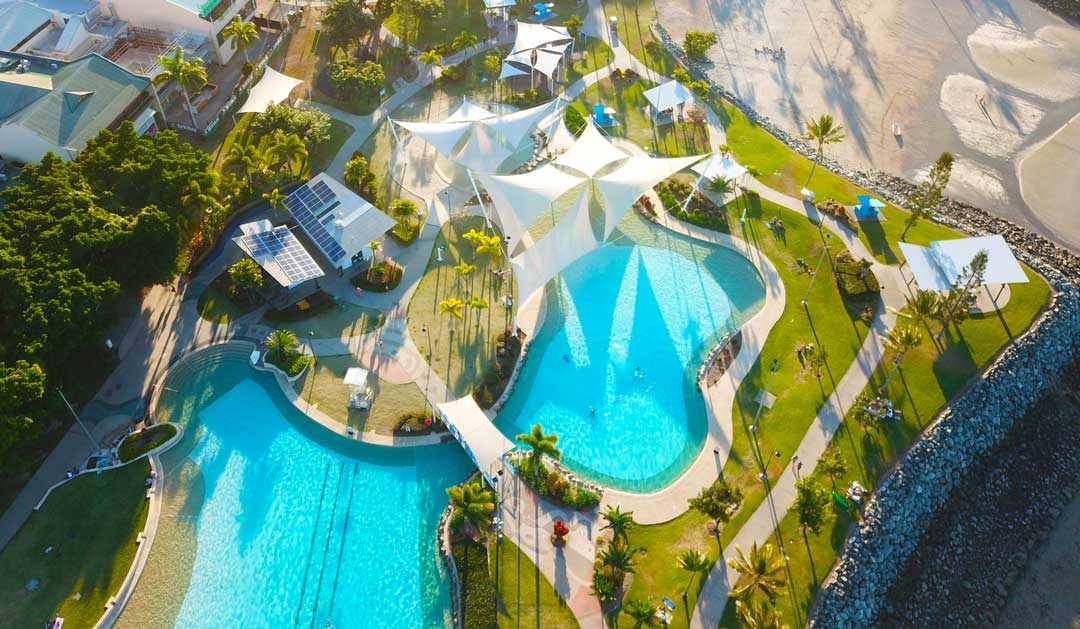 Cafes and Restaurants At The Airlie Beach Lagoon
Treehouse Cafe / Restaurant / Bar  has access from the swimming complex and has great coffee lunches, dinner and cocktails
Wisdom Cafe is at the southern end as you walk in from the car park, great coffee, fresh lunch options and juices
Hogs Breath Cafe has views over the lagoon with access on the main street, a great place for a steak and beer.
The Red Plate – is a relatively new dining experience to the region and has a stunning dining deck right beside the lagoon with tree shade. One of my favourite places to eat at the Airlie Beach Lagoon
Carparking
Paid car parking is available at each end of the lagoon there are two options to pay
Pay and display either with coins or debit/credit card
Easy Park App, available on Apple and Android stores, this app is the quickest and most convenient way to pay for parking at the lagoon. Once you have set up your account on the app, you park in the car park open the app, select your vehicle number plate and purchase your parking time, all done in 20 seconds.
Free car parking is available at the council car park on Waterson way back roundabout the entrance to this car park is located here. Once parked it is a 5-minute walk to the Airlie Beach Lagoon.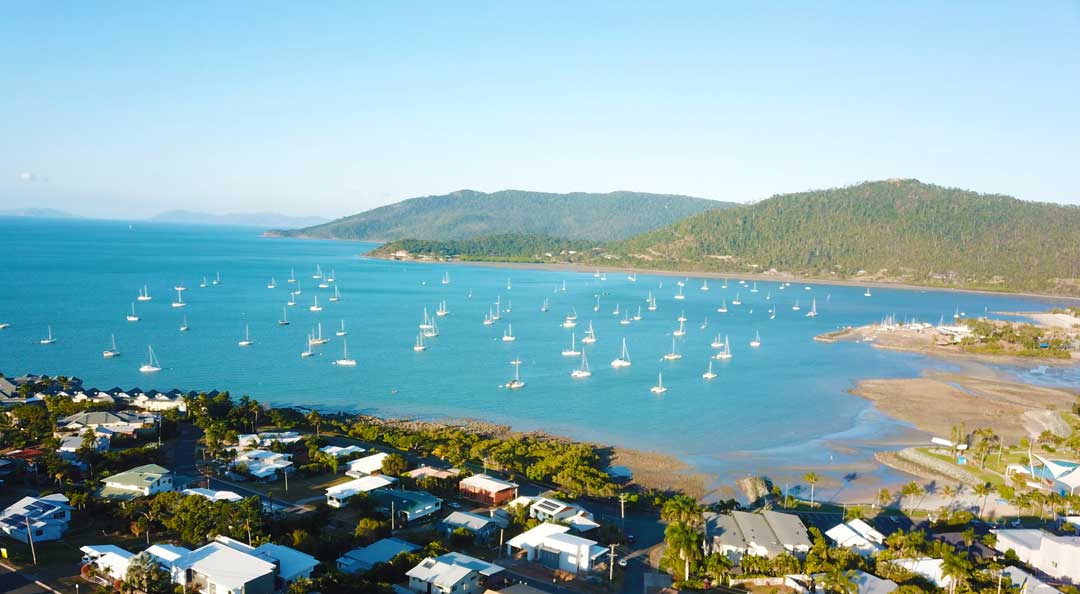 Flotation Devices For Non-Swimmers
Flotation devices and pool toys are available for sale at LiveLife Pharmacy Airlie Beach (access from the south carpark) underneath Heart hotel. the sully pool noodles along with a range of blowup and diving pool toys.
Activities Close By
Stand up paddle boarding and canoe hire is on the northern beach of the Airlie Beach Lagoon Complex,
Airlie beach foreshore includes 2 more children's playgrounds, a beach and shaded areas on soft green grass
Airlie Beach Scenic Flight – see the Airlie Beach lagoon and surrounding are from a scenic flight
Airlie beach lagoon opening hours
Opening times are 6 am to 6:30 pm
airlie beach lagoon cost ?
How deep is Airlie Beach Lagoon
Is airlie beach lagoon heated
No but there is no need, its always warm in North Queensland
Where is Airlie Beach lagoon is situated?
See here on google maps - https://goo.gl/maps/d6VnWP9LRHsJwpRJ6
Do you need to book in advance to visit Airlie Beach Lagoon?
What hotels are near Airlie Beach Lagoon?
Yes see our guide to the 10 closest accommodation places on this page
Can you swim at Airlie Beach Lagoon?
Yes there are swimming areas for infant to adults
While Visiting the Airlie Beach Lagoon remember to check our Whitsundays Day Tour and Scenic flight Packages to the Whitsunday Islands, if you have any questions please see my contact information below.
As always if you have any questions about the Airlie Beach Lagoon or any regional information , you can head over to our FAQ page or contact us on 07 4813 9007 or bookings@zigzagwhitsundays.com.au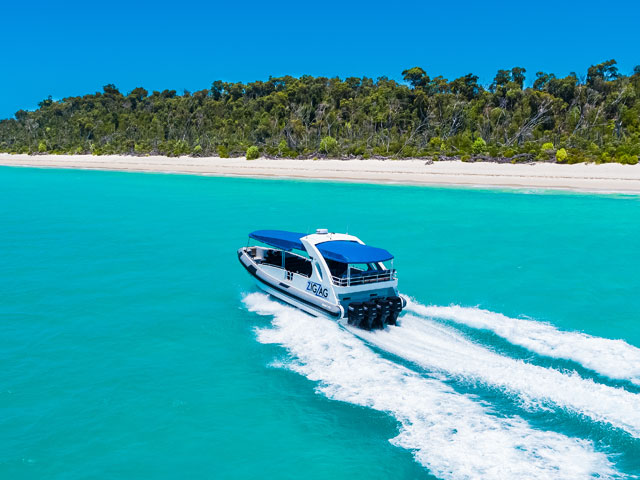 DAY TRIP WITH ZIGZAG WHITSUNDAYS
ZigZag Whitsundays day tour checkin starts at 7.50 am and the trip returns at 4 pm, The tour visits Whitehaven Beach and the southern lookout, you will also get an opportunity to snorkel around the islands.
As we depart early and return later, you get more time on the water, and more locations visited than any other Whitehaven Beach Tours from Airlie Beach.
In 2020 the boat was refitted with high back padded seats making sure our guests have a comfortable safe ride every time! 
Dynamic Pricing
The only Whitsundays Day Trip with Dynamic Pricing, Tickets Start At Only $159
Comfortable Boat Ride
Comfortable Ride With More Destinations And More Time At Them
Everything Included
Our Tour Is Fully Inclusive Of  Lunch Snacks Snorkel Equipment and Wetsuit.