Tour From Daydream Island
© Official Whitsundays Local Website
Whitsunday Islands Day Trip
Pick Up Day Dream Island Marina
Return To Day Dream Island Marina
Ticket Price $185
Includes Lunch
ZigZag Whitsundays now provides a tour from DayDream Island and Resort in the stunning Whitsunday Islands.
Our trip runs daily and picks up inhouse guests from daydream island marina around 8.50 am returning around 3.30 pm.
Tour Quick Details
Departs Daily at 8 am
Visits Whitehaven Beach
New Whitehaven Beach South Lookout
Guided Island Bushwalk
Awesome Snorkel Location
Chalkies Beach
Haslewood Island Lookout
Pricing Starting At $185
All Prices include Lunch, Snacks, Snorkel Equipment And Wetsuit
Onboard Bathroom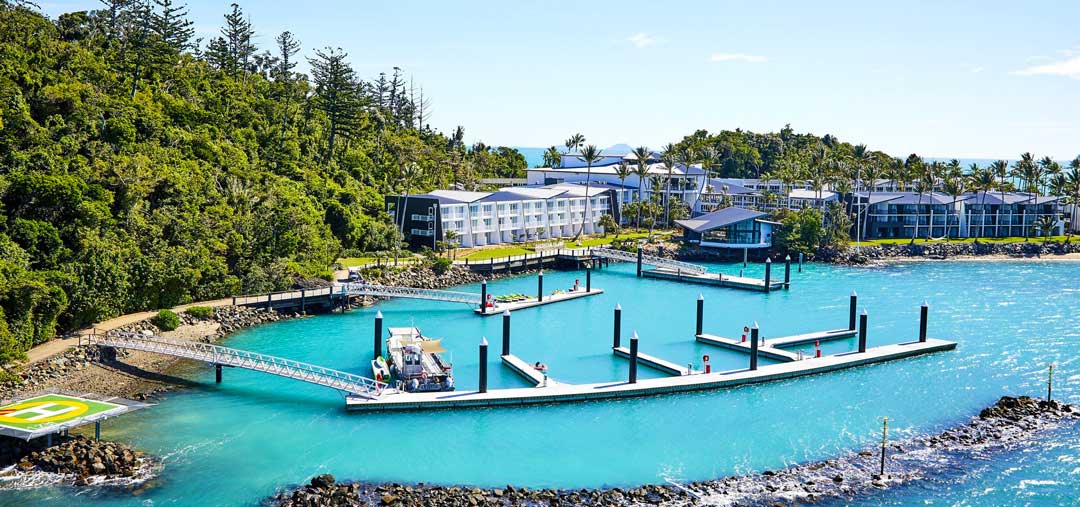 Whitsundays Tour from Daydream Island Details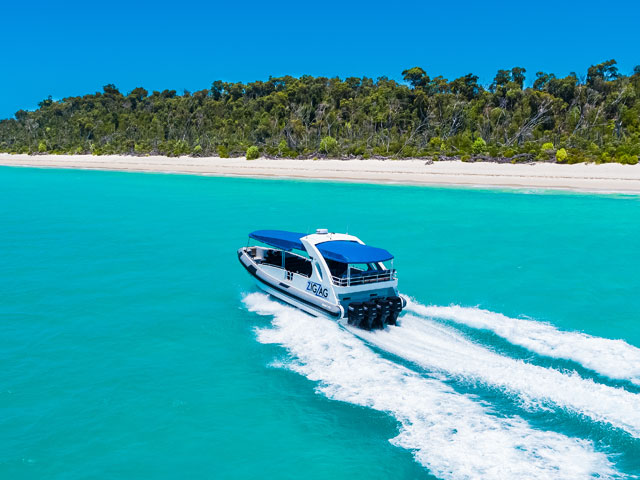 DAY TRIP WITH ZIGZAG WHITSUNDAYS
ZigZag Whitsundays tour from Daydream Island starts around 8.50 am at the island marina, and the trip returns around 3.30 pm. The tour visits Whitehaven Beach and the southern lookout, you will also get an opportunity to snorkel around the Whitsunday Islands.
As we depart early and return later, you get more time on the water, and more locations visited than any other Whitehaven Beach Tours from Airlie Beach.
In 2020 the boat was refitted with high-back padded seats making sure our guests have a comfortable safe ride every time!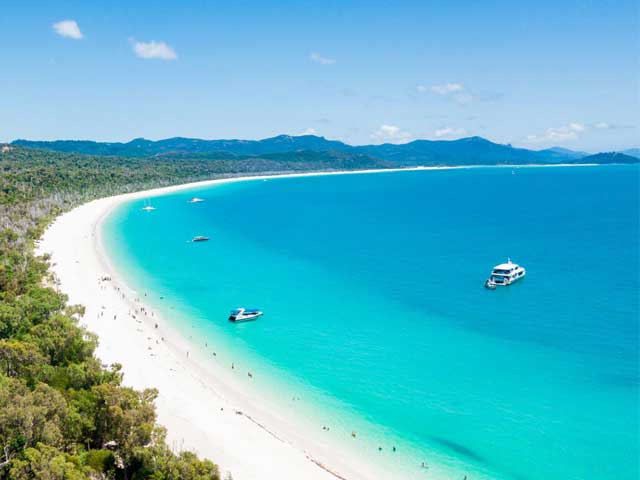 WHITEHAVEN BEACH – 2 HOURS
During your day tour from Daydream Island Resort, you will spend around 2 hours at Whitehaven Beach.  During this time you'll have the opportunity to discover the beach, plus visit the new South Lookout on a guided bushwalk. After the walk, enjoy a yummy lunch in the shade of the trees.
For people travelling to Daydream Island, Whitehaven Beach Tours are on top of the to-do list!
Few places in the world are so isolated or infused with as much natural beauty as Whitehaven Beach on the East Coast of Australia.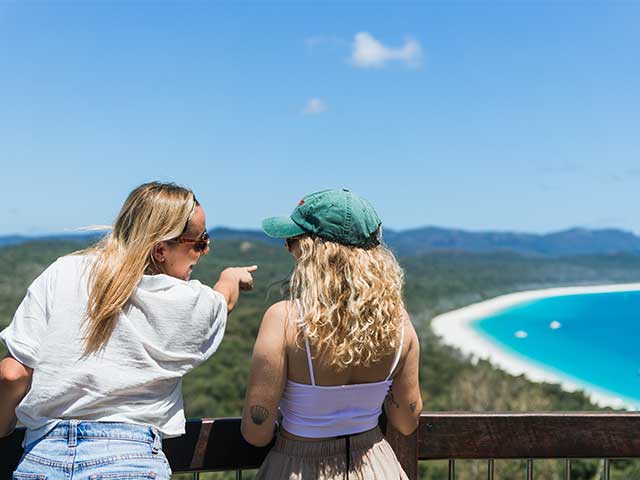 South Lookout At Whitehaven Beach
The new lookout at South Whitehaven Beach is now open and ZigZag Whitsundays Tour has included this inspiring new lookout in our day tour.
During our stop at Whitehaven Beach, you will have the option of a 1 km walk to the lookout that has 120-degree views of the Whitsunday Islands plus you will see all 7 km's of Whitehaven Beach.
Access to this platform starts from the southern end of Whitehaven Beach on Whitsunday Island.  Find out more information about the South Whitehaven Beach Lookout Here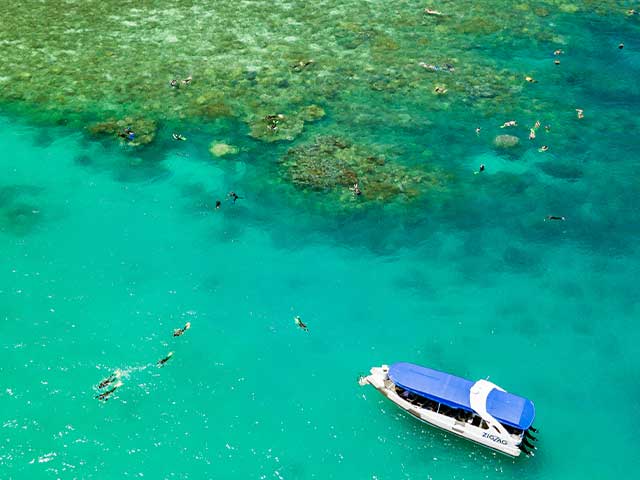 Depart from Airlie Beach and discover coral-filled bays filled with tropical fish around the Whitsunday Islands. ZigZag will take you to stunning snorkelling locations fringing The Great Barrier Reef, where you'll get to spend around 1-hour snorkelling. (weather dependent).
Beautiful snorkel locations
Mask, snorkel and fins included
Wetsuit/stinger suit Included
Fold-out stairs for easy water access
Flotation devices for non-swimmers
Learn More About Snorkelling From Airlie Beach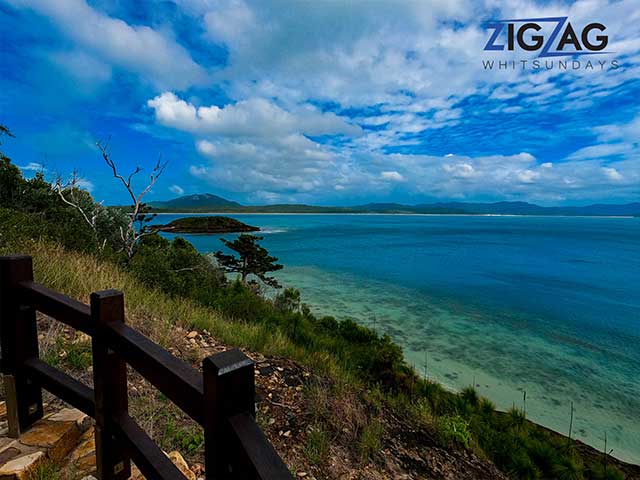 Chalkies Beach And Haslewood Lookout
Chalkies Beach on Haslewood island is like Whitehaven Beaches' little brother, stunning sand and fewer crowds make this a popular location on our tour.
While here you will get to experience the beautiful lookout overlooking the beach and coral reefs in one direction and views across the water back to Whitehaven Beach and surrounding islands in the other direction.
The lookout is a short 10 to 15-minute walk on a good track installed by national parks.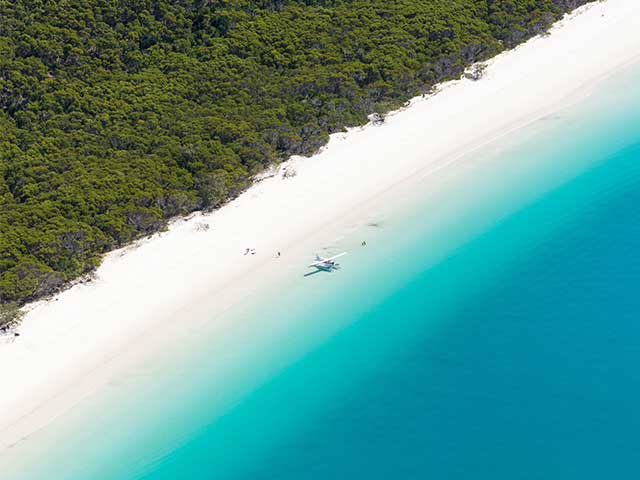 What's Included In the Tour Ticket Price?
Full-Day Tour With ZigZag Whitsundays
You Own High Back Padded Seat
Food – Lunch Plus Morning and Afternoon snacks
Cold Drinking Water (bring your own bottle to fill up)
Onboard Bathroom Facilities
Snorkel Equipment – Mask Snorkel Fins Wetsuit
Spray and Wind Jacket (if needed)
Tour Pictures (posted to Facebook after the tour)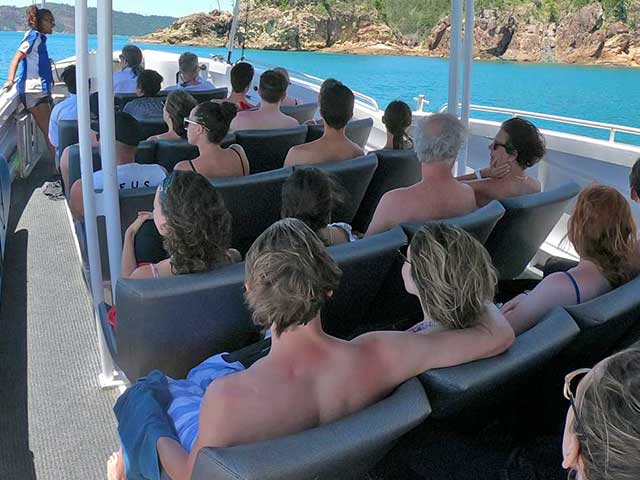 In a new first for Whitsundays Tours in the region, the owners added High back padded seats allowing maximum comfort and safety for anyone that travels.
High back seats with 10 cm padding (no hard plastic seats)
Very low probability of seasickness
Fold-down stairs for beach landings and snorkel activities
Onboard bathroom
Clean, tidy and modern
Sun protection roof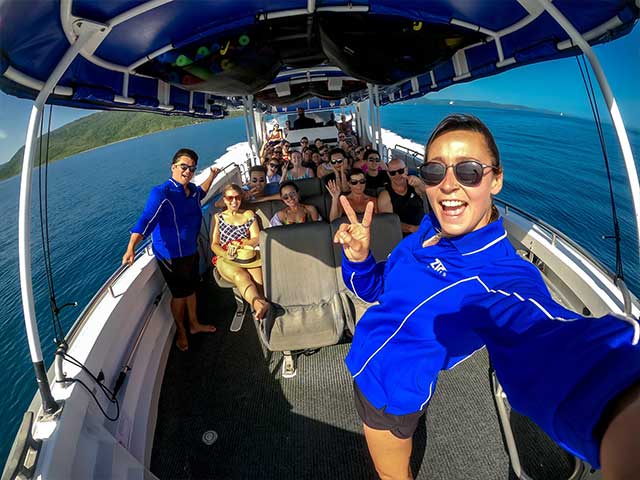 ZigZag Whitsundays Day Tour is owned by a Marine Biologist who professionally hand trains your friendly tour guides. With over 20 years of combined experience in the tourism industry, our crew will show you the best the Whitsundays has to offer.
Experienced marine qualified tour guides,
The friendliest crew in the Whitsundays
All crew trained in first aid and O2
In-water activities specialists, trained by a marine biologist
Genuinely love their work
How To Book Your Ticket From Daydream Island
To book the tour from DayDream Island click any of the Book Now buttons on our website page. Select the date you wish to travel and Choose the option for a pick-up from Daydream Island Resort.
Ticket prices from Daydream Island are
Adults $185
Children (between ages 5 and 14) $135
Sorry we can not take children under 5 years old
Prices from the island are slightly more expensive as we have to come out of the normal tour route to pick up guests. This covers the extra fuel we need to use with 1200 horsepower 🙂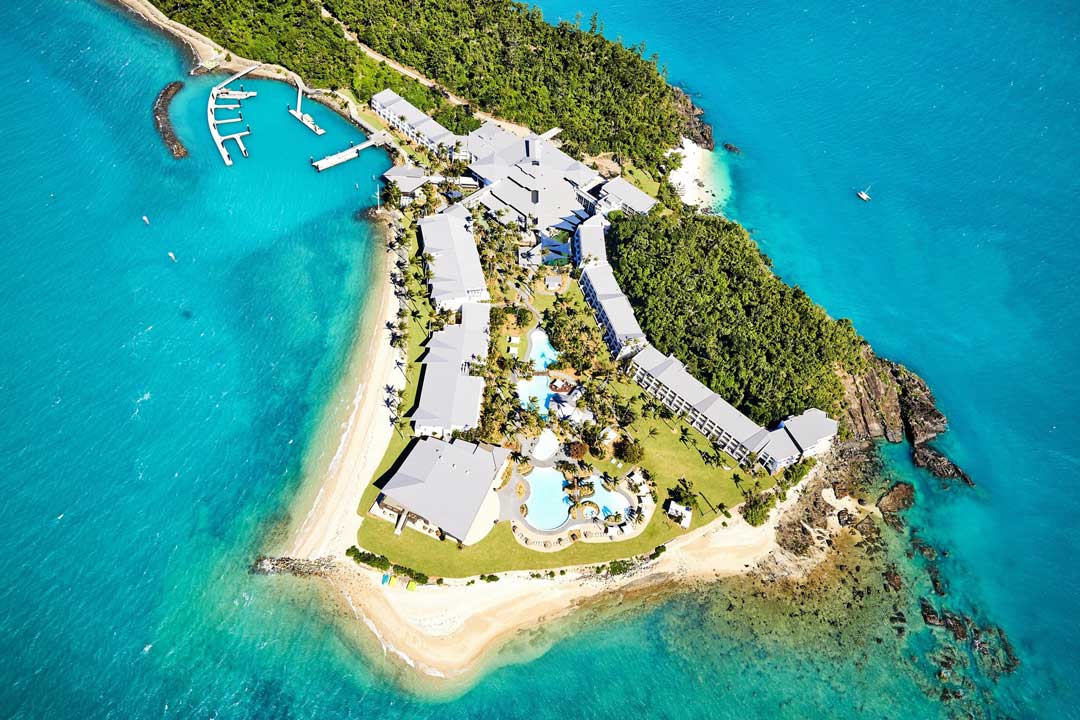 While Visiting the Airlie Beach Lagoon remember to check our Whitsundays Day Tour and Scenic flight Packages to the Whitsunday Islands, if you have any questions please see my contact information below.
As always if you have any questions about our tour from Daydream Island or any regional information, you can head over to our FAQ page or contact us on 07 4813 9007 or bookings@zigzagwhitsundays.com.au