Top 10 Things To Do In The Whitsundays
Before we start our Top 10 Things To Do In The Whitsundays, Did you know that The Whitsundays has 74 islands that lie between the northeast coast of Queensland, Australia and the Great Barrier Reef?
We know what you're thinking, that's a lot of lands to explore… and trust us, it's worth every minute. This post is your ultimate guide to the Whitsunday Islands and everything they have to offer—if you're wondering which places are worth setting foot on, or how to even get to them, then grab Airlie Beaches best coffee and read on.
I will quickly explain your options on arrival destinations in the Whitsundays
Airlie Beach and Hamiltion Island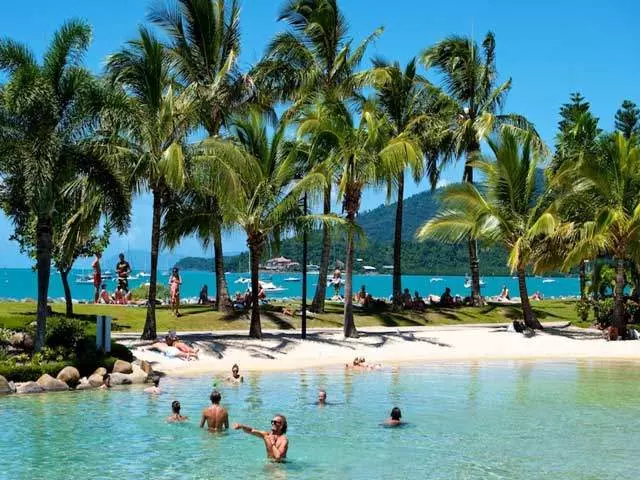 The first places you're going to want to check out are Airlie Beach and Hamilton Island—and the main reason for this is because if you plan on visiting the Whitsundays, you're going to need to fly into either of these places first.
Once you've landed, there are plenty of charters and airport shuttles that can get you around and about. If you're flying into the mainland, you'll need to commute to Airlie Beach before you can really drop your bags, kick back and relax. Thankfully, everything you'll want to see and do is within walking distance once you get here—so any restaurant, spa, or marina you need is just a short, ten-minute walk away.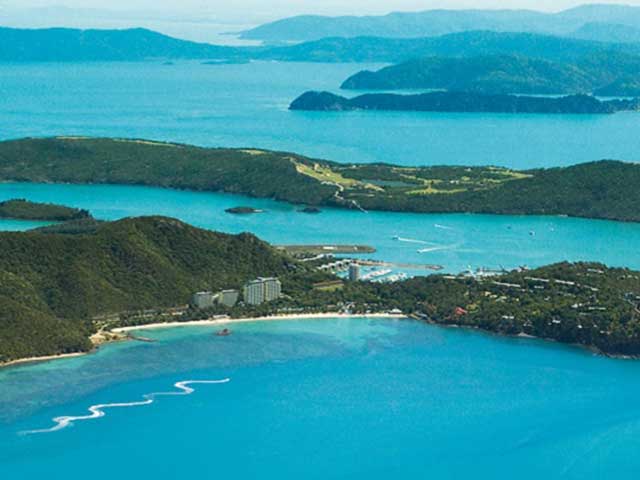 If you're flying to Hamilton Island on the other hand, you'll still have access to tours and islands, but you'll be a short trip away from the mainland. Not to worry though—Hamilton Island has all its own facilities and accommodation options, and it's hardly a place you'll feel isolated at with the number of luxurious islander destinations and activities on your doorstep.
Whitsundays To Everywhere can get you from Whitsunday Airport to Airlie Beach, and Cruise Whitsundays has daily ferries that can chauffeur you to and from Hamilton Island (as well as other places).
Ok, let's get started ….
Here Are Your Top 10 Things To Do In The Whitsundays
1. Visit Whitehaven Beach & Hill Inlet Lookout
If you visit The Whitsunday Islands it's a must-do to visit Whitehaven Beach! It's only the most incredible beach with the purest white sand, with 97% pure silicon white sand it's so soft it actually feels like walking on flour. To top this off there is the most beautiful swirling sands and crystal-clear ocean waters!
If you have your own boat you can spend all day here or even camp at the south end otherwise book a Whitehaven Beach Tour for the best experience. This will always be the #1 Things to do in the Whitsundays
2. Snorkel On The Great Barrier Reef
This experience is outstanding to say the least, snorkeling among fish and coral in clear warm tropical waters is the best fun you can have with a wetsuit on!
To snorkel the Great Barrier Reef you have 2 options
 Some of the best snorkelling locations include Manta Ray Bay (Hook Island), Blue Pearl Bay (Hayman Island), Langford Island, Hardy Reef, Bait Reef, Chalkies and Peter Bay.
#3. Take A Scenic Flight
I get excited when I talk about scenic flights and there is a very good reason. They are simply breathtaking! I use Fly Australia charters for my Whitsundays And Airlie Beach Scenic Flight as they only take 5 guests maximum and you are guaranteed a window seat.
The flight is 70 minutes long and you will fly over the Whitsunday Islands, Whitehaven Beach twice, The Outer Great Barrier Reef and the world-famous Heart Reef (yes there is a reef shaped just like a heart) Just about every time you will spot sharks, turtles or stingrays from the air. Without seeing this for yourself it's hard to comprehend just how big this living ecosystem is.
I have been here 20 years and done dozens of flights and I'm excited every time before I go.
#4. Visit Hamilton Island
The most famous resort destination in the Whitsundays is Hamilton Island, affectionately known as "The Rock" this island resort is more like a small town. With a mix of high-end residential apartments and houses and holiday accommodation, it is a playground for all budgets.
To visit Hamilton island for the day there is just one ferry service so check out Cruise Whitsundays timetable for transfers to and from Airlie Beach.
For guests staying on the island, there are a wide range of activities and tours you can take from the island, if you are looking for a boat like ZigZag that departs hamilton island check out Hamilton Island Watersports full and half-day tours
#5. Visit Airlie Beach
Known as the "Gateway To The Whitsundays" and "Heart Of The Reef"Airlie Beach has everything you need for a tropical holiday.
Departing daily from Coral Sea Marina and Port Of Airlie are Half-day Tours, Full Day Tours, Overnight Tours and activities like jet skis, skydiving, aerobatic planes etc.
If boating and adrenaline are not your thing, there are some spectacular beaches, crocodile safaris, rainforest walks, mountain bike tours, stand-up paddleboarding etc
The main street is alive with cafes, pubs, clothes shops and restaurants and even has a small Woolworths in the main street so you can save some money on eating out.
#6. Go Bareboating
This one is screaming up the things to do in the Whitsundays list! Ever dreamed of sailing a yacht around tropical islands even though you have no experience? Well, your dreams have come true! With most hires starting at 4 – 7 days you will get full training on how to sail the Whitsundays. Don't worry most of these boats are easy to operate and you will have someone helping you leave and return to the marina
Bareboating has rapidly increased in popularity since the start of covid so if this is on your bucket list, Book Early
#7. Take A Jetski Tour
A jetski tour is an awesome way to see some of the closer islands and have some real fun at the same time.
Depending on the tour you can ride out in pioneer bay (out front of Airlie Beach) or visit daydream or Palm Bay on Long Island, these tours are between 1.5 to 4 hours
#8. See Crocodiles In The Wild Or At Farm
Not so well known for the Whitsundays, but we have a crocodile farm and you can also take a tour in the Proserpine river to see them in the wild. Both are superb ways of seeing crocodiles while you are in North Queensland
One of these should be on your list to do when visiting the Whitsundays.
#9. Visit The Airlie Beach Lagoon
One of the most popular Whitsundays things to do is FREE!. The Airlie Beach lagoon is situated in the middle of town right beside the sea. This is the perfect place to cool off and let the kids run wild.
the complex has a large outdoor pool/lagoon with ranging depths suited for all ages, there is even a small toddler shallow lagoon.
You will also find plenty of shade and seating, free BBQs and a kids playground
#10. Cape Gloucester and the Resort (local tip you won't find elsewhere)
I'm giving away a locals secret here and will probably be lynched in the main street… but here goes. Cape Gloucester is one of the most picturised places on the mainland, situated only 30 minutes from Airlie Beach is both Montes Resort and Cape Gloucester Resort, these are basic resorts right on the beach and day-trippers are welcome to come drink and eat at the restaurants.
If you don't want the hustle and bustle of Airlie Beach these both have accommodation as well or you could check out Hydeaway Bay on Airbnb ( I do this twice a year)
That is my list of Whitsundays Things To Do and I hope you have a great time exploring these destinations and activities. If you are interested in our ZigZag Whitsundays Day Tour please see all the information below
As always if you have any questions about Things To Do In The Whitsundays , you can head over to our FAQ page or contact us on 07 4813 9007 or bookings@zigzagwhitsundays.com.au
ZigZag Whitsundays Day Tour Details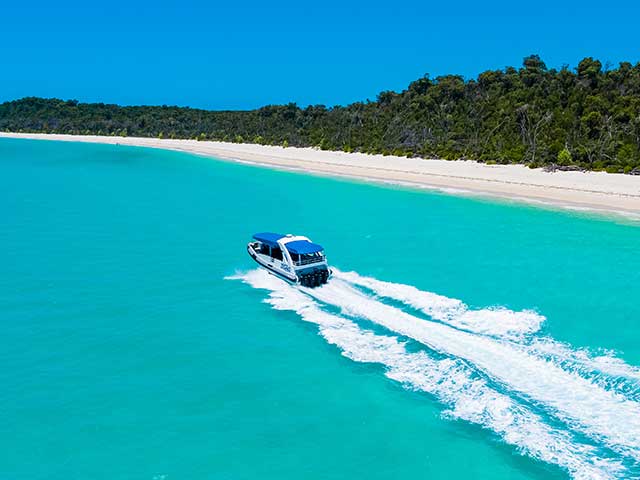 This is no ordinary boat, powered by FOUR 300hp Suzuki Engines the boat is fast and yet extremely comfortable with highback padded seats. Seasickness is virtually eliminated as the boat rides on top of any waves,  no rocking side to side whatsoever, making this Whitsundays day trip perfect for any guest worried about feeling sick on the ocean. ZigZag Whitsundays has a shallow draft and stairs folding down from the front this is the perfect boat for beach landings.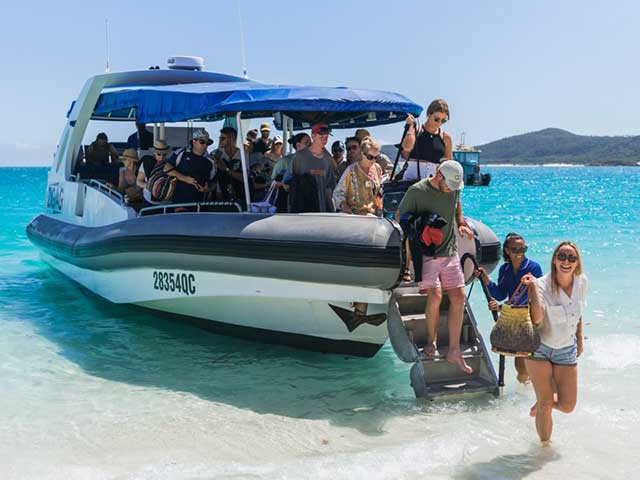 ** Note – this is a general itinerary there are a lot of factors that can change this including tides and wind. ZigZag Departs Coral Sea Marina|Resort in Airlie Beach. Our meeting time is 8 am sharp. Departing from Coral Sea Marina we head to the snorkel location for around 90 minutes. Then off to Whitehaven Beach for lunch and a guided walk to the south Whitehaven lookout. Next stop is Palm Bay resort on Long Island. for around 60 minutes and back at Coral sea marina at 4 pm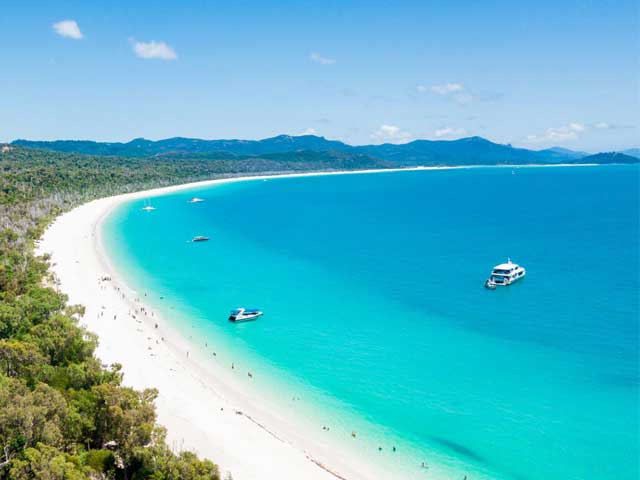 ZigZag Whitsundays Whitehaven Beach Tour tour will spend around 2 hours discovering the new south lookout and the beach. This Beach is continually voted Australia's number 1 beach in the Trip Advisor awards. The beach is 7 km long and holds some of the purest silica sand in the world totalling around 98.7%. ZigZag will make sure you get away from the daily crowds and have plenty of time to explore with family and friends. When the boat first pulls up to Whitehaven, you will be served a cold buffet lunch. There is a good reason this is number one on the things to do in the Whitsundays list!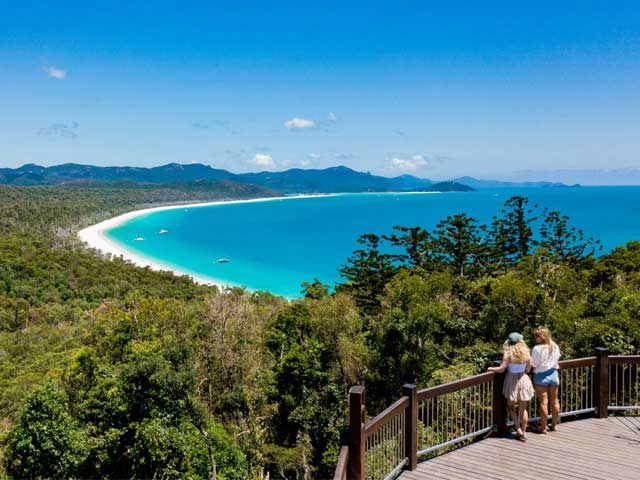 The new South Whitehaven Lookout opened in 2019.
In one direction you will see a spectacular view down the entire 7 km of Whitehaven Beach, and in the other direction, you will see the open ocean and islands leading back to the mainland.
The walk is around 45 mins return (including time at the top) and is beginner grade and you will need a level of low-medium fitness.
In my personal opinion, the South Lookout delivers more wow factor every day of the week while the Northern lookout highly depends on tides and is overcrowded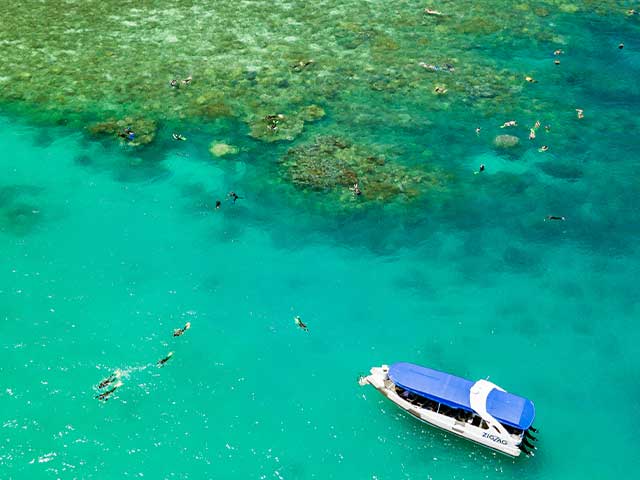 Snorkelling In The Whitsundays
Whether you have snorkelled before or this is your first time, the Whitsunday Islands are perfect for beginners and advanced alike. With the coral bays sheltered from wind and tide and most coral starting only meters from the beach, this is the ideal location for the whole family to see turtles and visit Nemo in a natural environment. On our Whitsundays Day Trip all the snorkelling equipment, including wet suits are provided along with flotation devices if needed. The qualified crew will watch over everyone on rescue boards so you can feel safe and enjoy the best coral and tropical fish the Whitsunday region has to offer.
Dynamic Pricing
The only Whitsundays Day Trip with Dynamic Pricing, Tickets Start At Only $159
Comfortable Boat Ride
Comfortable Ride With More Destinations And More Time At Them
Everything Included
Our Tour Is Fully Inclusive Of  Lunch Snacks Snorkel Equipment and Wetsuit.