© Official Whitsundays Local Website
Information
Tours To Heart Reef
Map Location
Activities
One of the biggest tourist attractions in Australia is Heart Reef Whitsundays. Located in the Great Barrier Reef 78km offshore of Airlie Beach is a coral reef that is heart-shaped and only 17 meters in diameter. Despite its small size, the beacon of love is clearly visible from an air tour on a helicopter or scenic flight.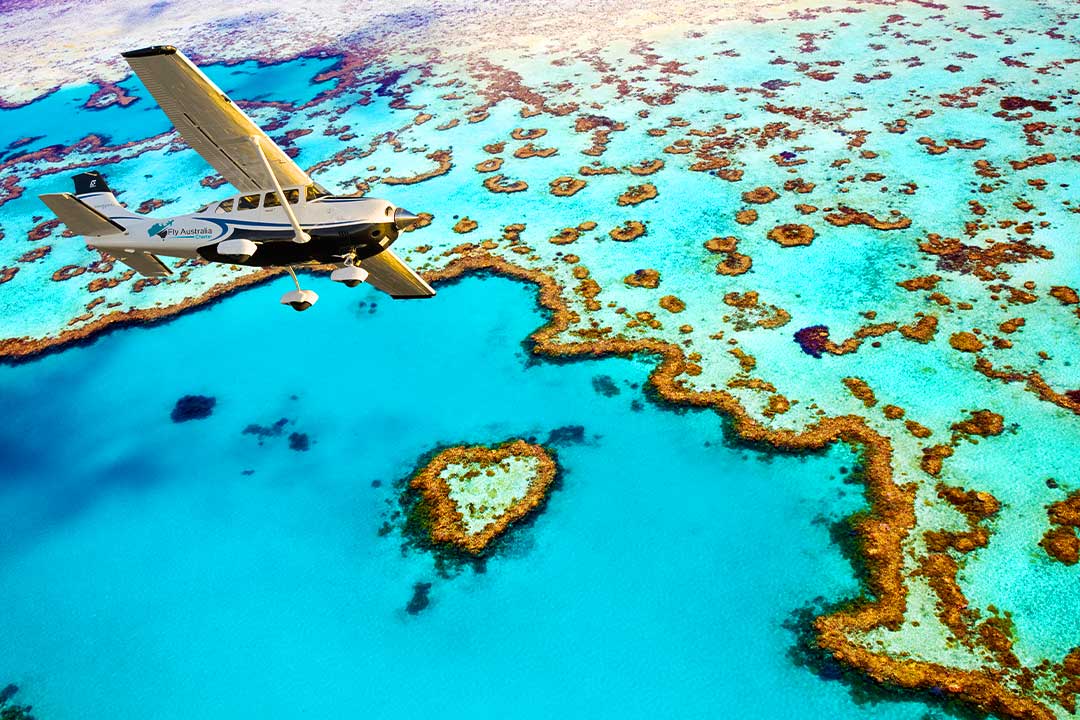 Where Is The Love Heart Reef Whitsundays Location?
Heart Reef Whitsundays is located off the mainland of Airlie Beach, Queensland 4802 and is only accessible by boat, helicopter or scenic plane.
78 Km from Airlie Beach
71km from Hamilton Island
108km from Bowen
152km from Mackay
The exact coordinates are 19.7754° S, 149.2478° E. You can see the below Google map which also has a satellite view over Heart Reef.
How To Get To Heart Reef Whitsundays?
Heart Reef Whitsundays is located 78km over the coral sea from Airlie Beach, so the options to visit this location are limited. Your options are
Scenic Flight By Plane
Helicopter
Boat
Option 1 – Scenic Flight Tour By Plane over islands and reef 
Taking an Airlie Beach Scenic Flight to Heart Reef Great Barrier Reef is the most popular and affordable way to see this so-called Heart Island.
FlyAus Charters have 6 to 8 flights departing daily for Whitsunday Airport just 5 minutes from Airlie Beach. The 70 Minute Flight takes a maximum of 5 people and flies over
South Molle Island
Daydream Island
Whitehaven Beach
Hill Inlet (swirling sands)
Hayman Island
Hamilton Island
Hardy Reef
Hook Reef
Line Reef
Heart Reef
These flights can book out fast so make sure to book ahead. ZigZag Whitsundays have the Sea and Sky Combo which includes FlyAus Charters scenic flight and a Whitehaven Beach Tour . To Find out more about the Sea and Sky Combo by clicking the button below.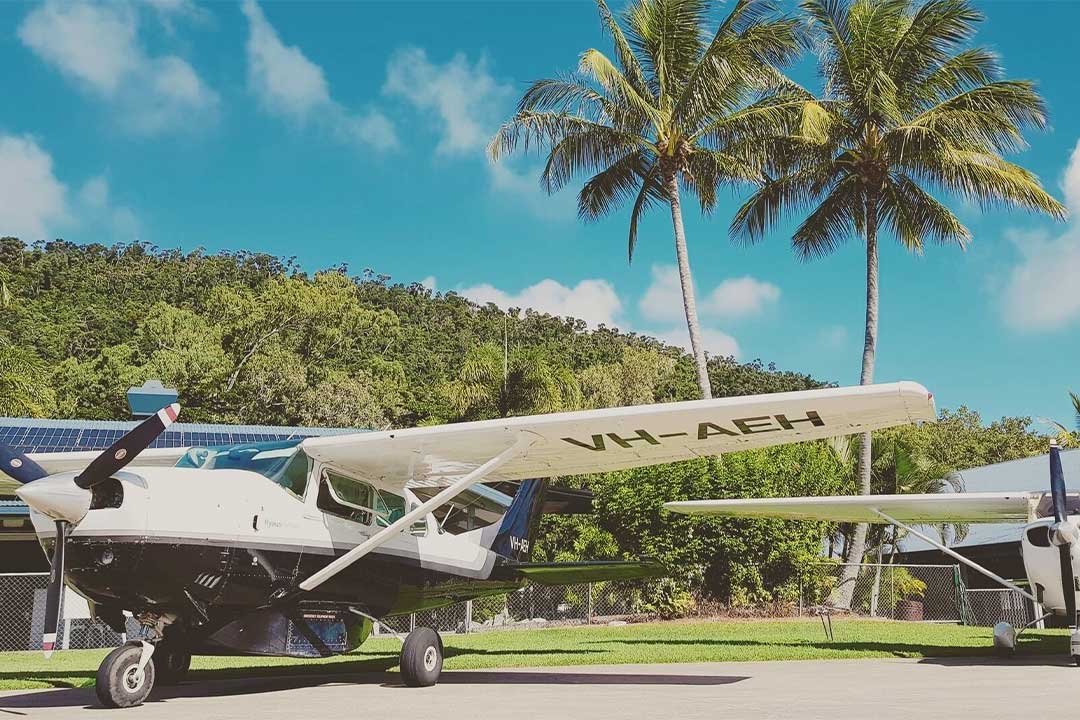 Option 2 – Helicopter Flight From Airlie Beach Or Hamilton Island
Heart Reef Helicopters have flights to the heart island pontoon, there are a few different options including
Heart Reef Scenic Helicopter Flight

'Heart Island (pontoon landing)

Whitehaven Beach and Heart Reef scenic

Whitehaven and Heart Reef Landings (time at each location)
for all the information visit their website here 
Option 3 – By Private Boat 
This option will take some planning as you can access the lagoon where the reef is by High Tide, and I mean very close to high tide. Even wait for the yearly King tides.
To access Heart Reef Whitsundays by boat will need to be very well prepared and have a good long-range vessel.
we only recommend this option for very experienced local boaties. To see more information on the marine area and restrictions please see below.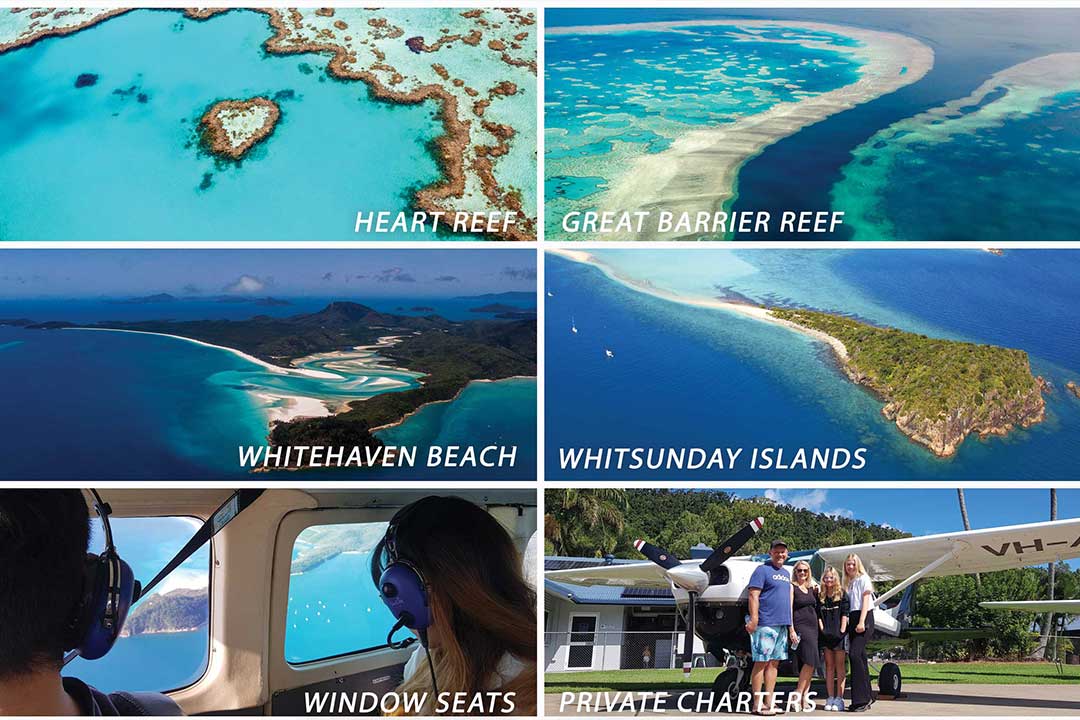 Heart Reef Zoning Map
 Heart reef is covered by the Whitsunday plan of management zoning restrictions and is a green zone in the Great Barrier Marine Park. This means a lot of activities like fishing, spearfishing and harvesting are restricted and not allowed, however boating, snorkelling and scuba diving are permitted around Heart Reef Whitsundays.
The below 2 images show Heart Reef in a green zone and what activities are allowed in a green zone within the Great Barrier Reef Marine Park
To see the full PDF (4mb) zoning map issued by Great Barrier Reef Marine Park Authority Click here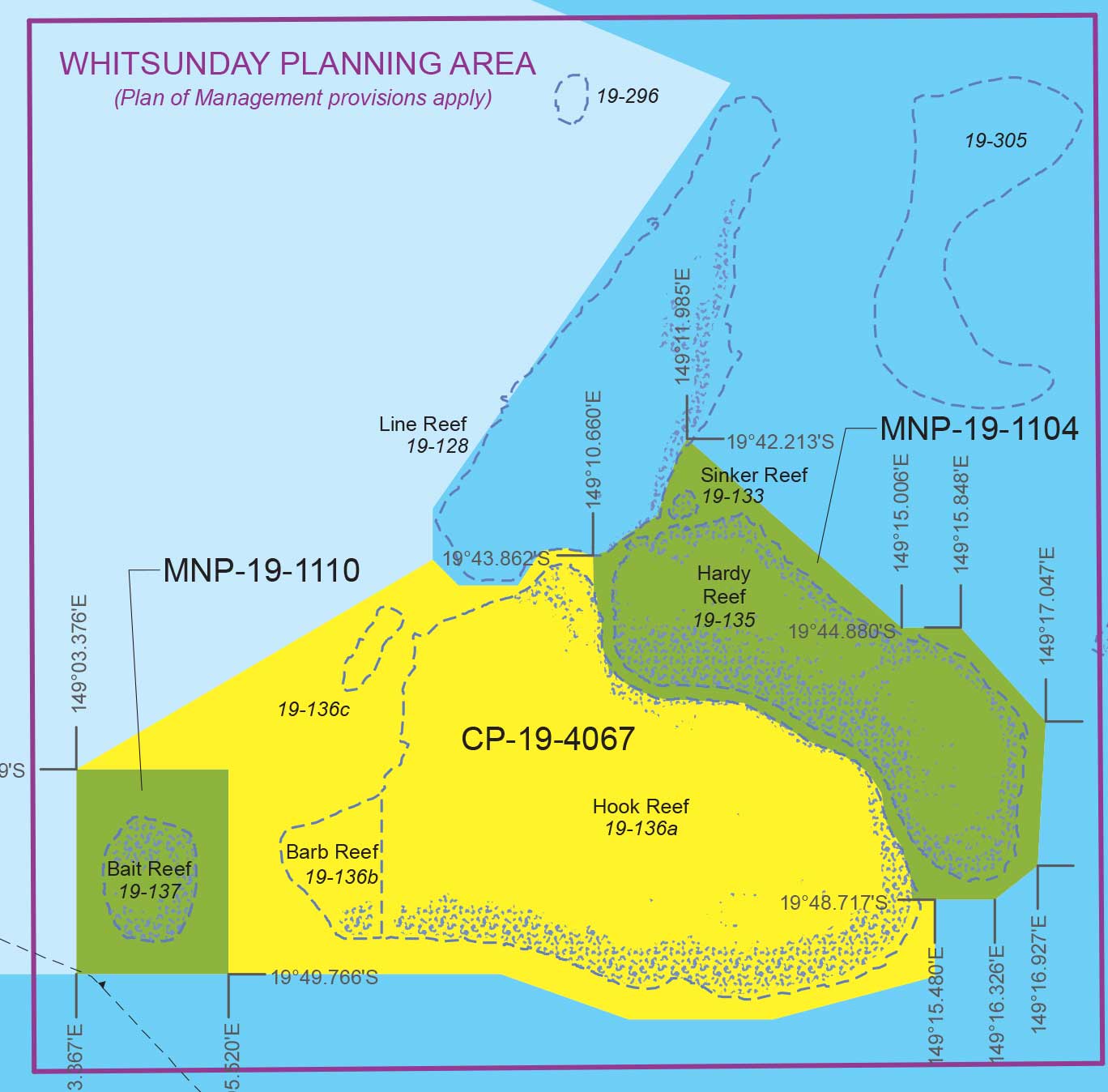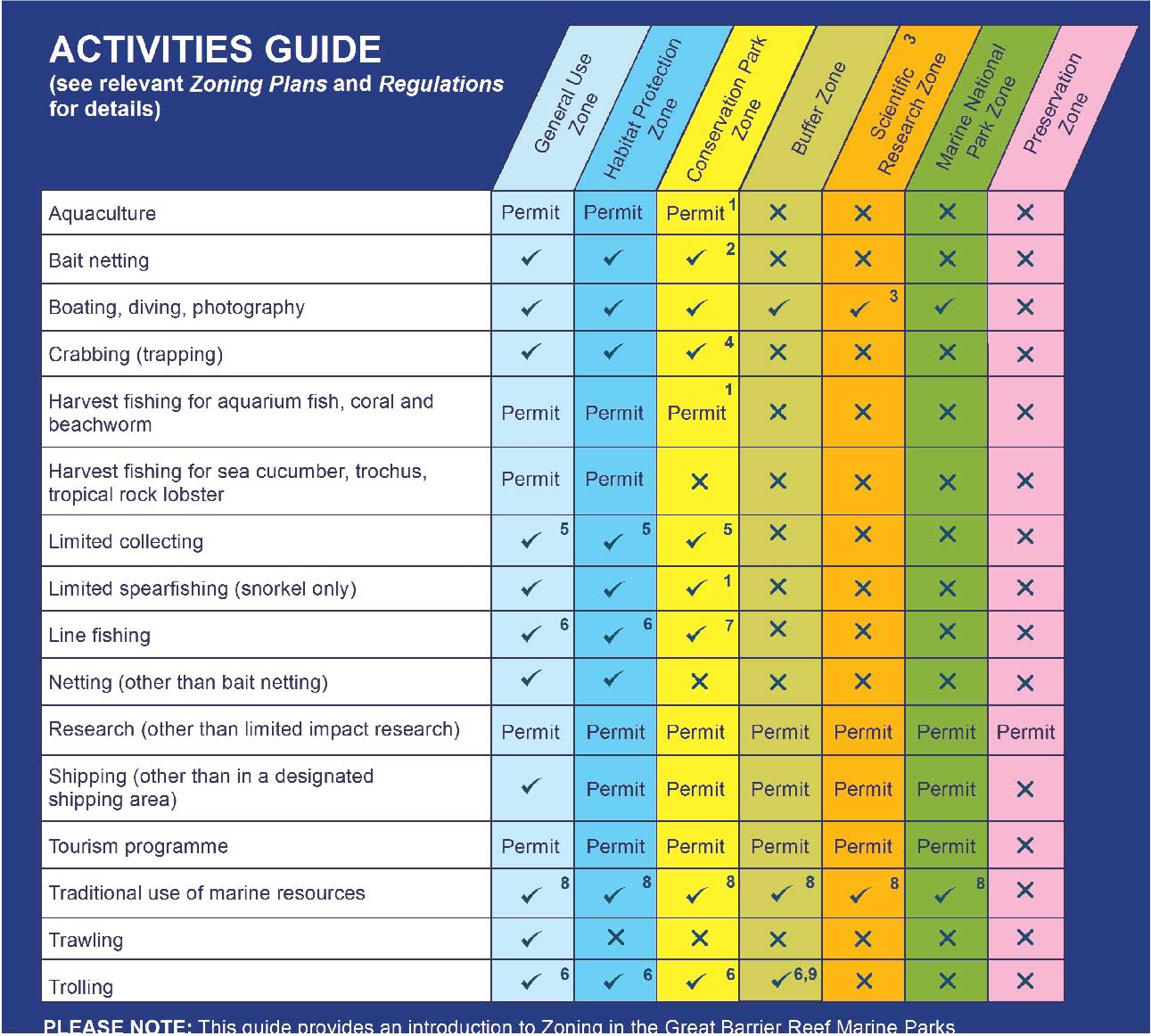 Closest Accommodation to Heart Reef
The closest accommodation to Heart Reef Whitsundays (ordered by shortest distance)
Cruise Whitsundays Reef Sleep on their overnight pontoon. see full details here 

Hayman Island Resort

Hamilton Island

Daydream Island

Airlie Beach
All of these locations have options of seeing and experiencing Heart Reef Whitsundays by plane or helicopter
How Was Heart Reef Discovered?
It wasn't until 1975 that Heart Reef was discovered by an Air Whitsunday pilot called John Ramsden, and he was on a routine scenic flight over the Great Barrier reef, as he passed over Hardy Reef Lagoon he detected a natural coral structure that was in the shape of a love heart.
47 years later and John would have never imagined the significance of his discovery that day. Businesses have taken visitors to this small reef, various organizations have it in their name, Tourism Bodys market regions through the Whitsunday council as ''' Heart of …" E.g. Collinsville is Heart of the Outback, and last but not least, thousands of wedding proposals have been created passing over Hert reef (lovers reef).
Where is Heart Reef Whitsundays?
Heart Reef Whitsundays is located 78km offshore of Airlie Beach QLD 4802 Australia. Situated in the Great Barrier Reef Marine Park and beside Hardy Reef.
How Big Is Heart Reef?
Heart Reef has a 17km Diameter
How Old Is Heart Reef?
Coral of the Great Barrier Reef Including the Heart Reef dates back 20 million years.
Is Heart Reef Protected?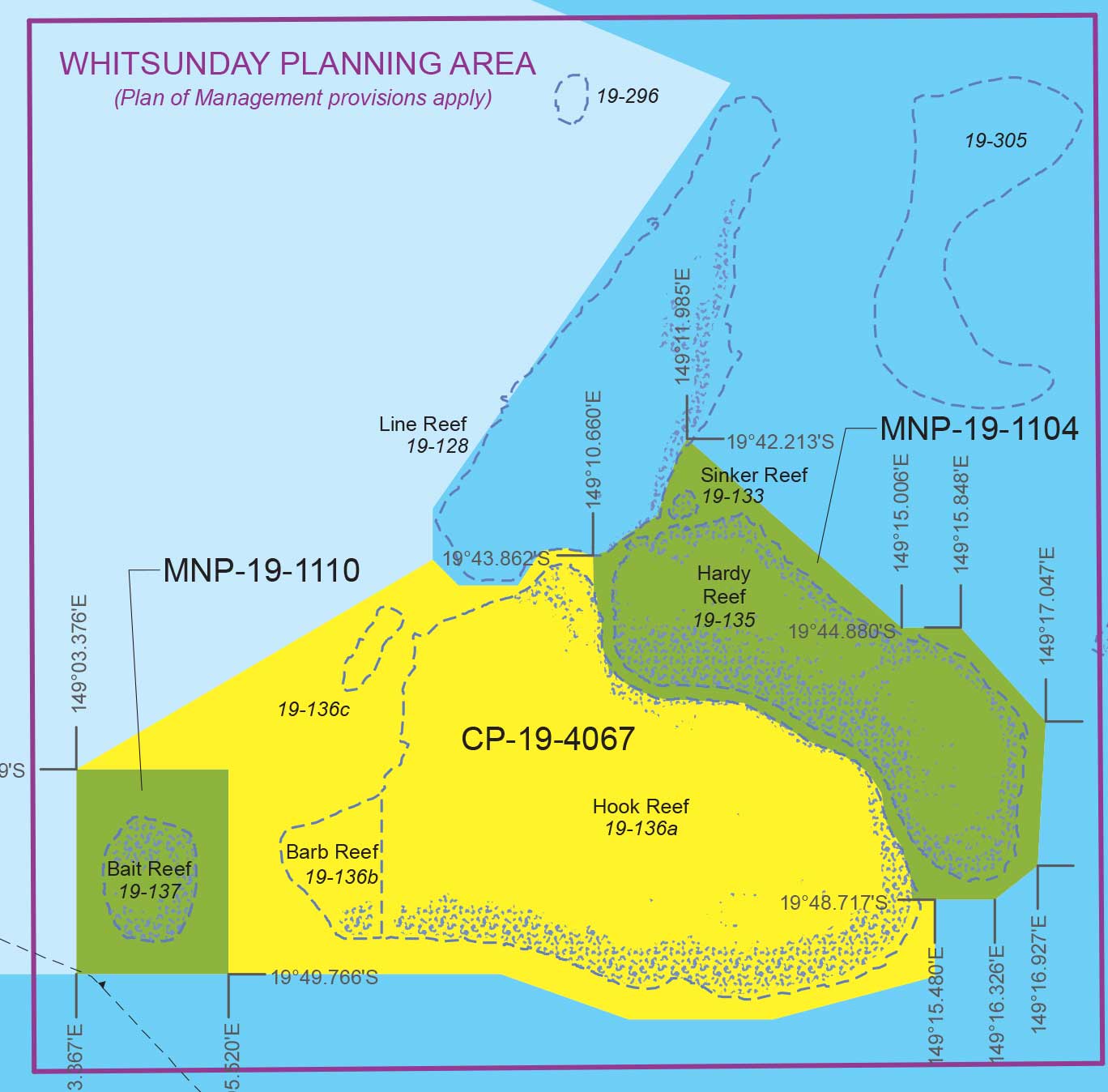 Heart Reef is a protected Green Zone, However swimming and Diving are allowed. Please see the Great Barrier Reef Marine Parke Authority Zoning Map on this webpage
What is the best way to see Heart Reef
the best way and most affordable to see Heart Reef is by Scenic Flight From Airlie Beach with FlyAus Charters
What Tour Companies Visit Heart Reef From Airlie Beach
ZigZag Whitsundays (Sea and Sky Combo),
FlyAus Charters,
Helireef,
Heart Reef Helicopters.
As always if you have any questions about the Heart Reef Whitsundays or any regional information , you can head over to our FAQ page or contact us on 07 4813 9007 or bookings@zigzagwhitsundays.com.au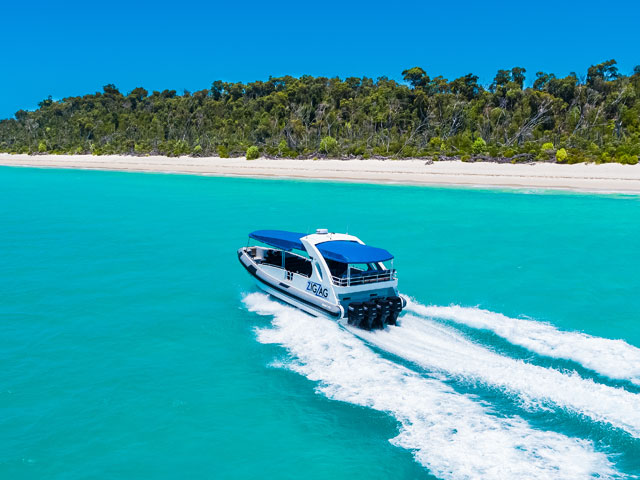 DAY TRIP WITH ZIGZAG WHITSUNDAY
ZigZag Whitsundays day tour checkin starts at 7.50 am and the trip returns at 4 pm, The tour visits Whitehaven Beach and the southern lookout, you will also get an opportunity to snorkel around the islands.
As we depart early and return later, you get more time on the water, and more locations visited than any other Whitehaven Beach Tours from Airlie Beach.
In 2020 the boat was refitted with high back padded seats making sure our guests have a comfortable safe ride every time!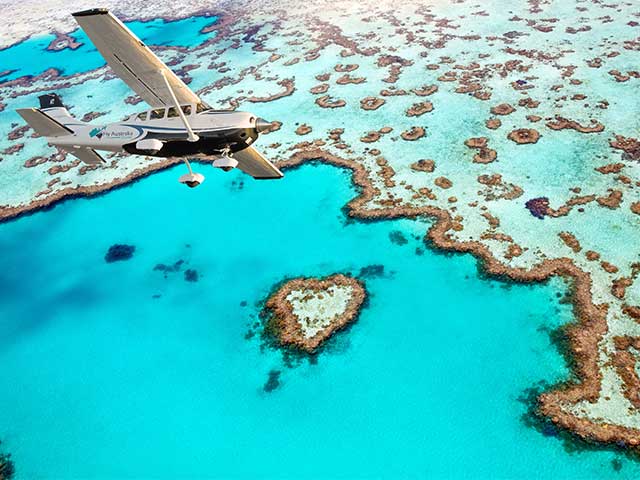 Holy Grail of Whitsundays Great Barrier Reef Packages. Save $$ by booking together
A 70-minute scenic flight of the Whitsunday Islands, Whitehaven Beach, Heart Reef and the Great Barrier Reef.
Headset and in-flight commentary by your experienced pilot.
Window seat for all passengers.
Unlimited photo opportunities.
Plus ZigZag Whitsunday Day Tour
Must be taken over multiple days Eg Day Tour one day Scenic Flight next day