Airlie Beach Tours With ZigZag
The best Airlie Beach Tours can be found right here. ZigZag Whitsundays is an owner-operated business based in Coral Sea Marina|Resort in the heart of Airlie Beach.
The Tour departs at 8.30 am and returns around 4 pm later that day. We visit Whitehaven beach for lunch including the southern lookout, and you will get the opportunity to visit snorkel locations.  ZigZag is operated by three qualified crew which includes a Captain and a Deckhand who have worked in the Whitsundays for a long time and will always take you to the best locations available on the day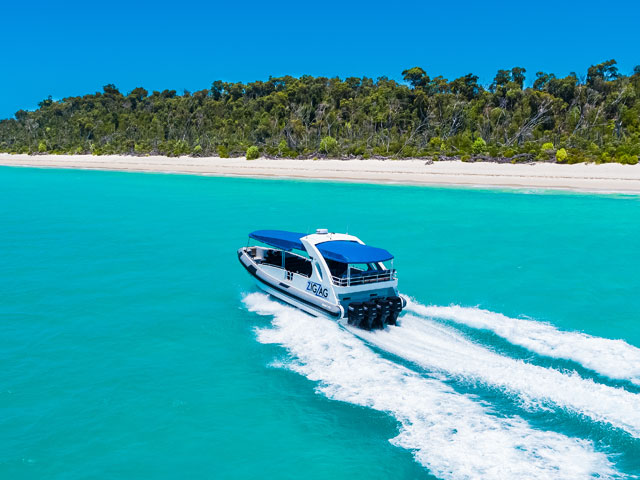 ZigZag Whitsundays Day Tour Departing Airlie Beach
From $159 Per Adult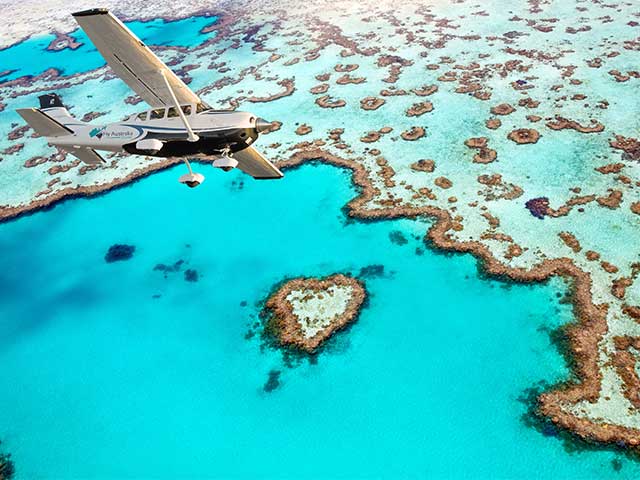 Sea And Sky Combo ON SALE $439
ZigZag Tour +Scenic Flight Over Multiple Days
The Best Airlie Beach Tours Are Here With ZigZag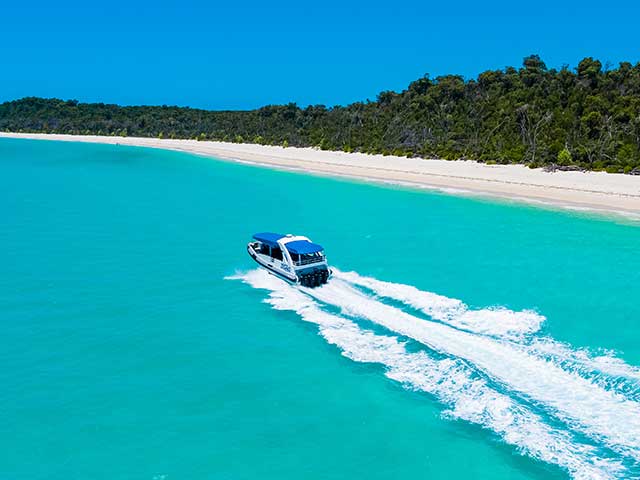 This is no ordinary boat, powered by FOUR 300hp Suzuki Engines the boat is fast and yet extremely comfortable with highback padded seats. Seasickness is virtually eliminated as the boat rides on top of any waves,  no rocking side to side whatsoever, making this Whitsundays day trip perfect for any guest worried about feeling sick on the ocean. ZigZag Whitsundays has a shallow draft and stairs folding down from the front this is the perfect boat for beach landings.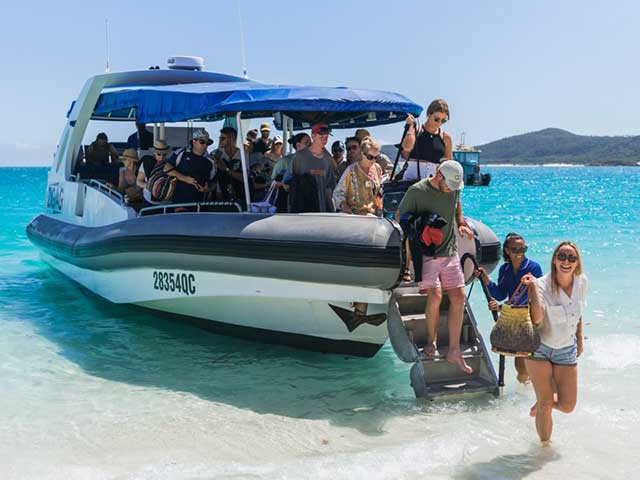 ** Note – this is a general Airlie Beach Tours itinerary there are a lot of factors that can change this including tides and wind. ZigZag Departs Coral Sea Marina|Resort in Airlie Beach. Our meeting time is 8 am sharp. Departing from Coral Sea Marina we head to the snorkel location for around 90 minutes. Then off to Whitehaven Beach for lunch and a guided walk to the south Whitehaven lookout. Returning back to Coral sea marina at 4 pm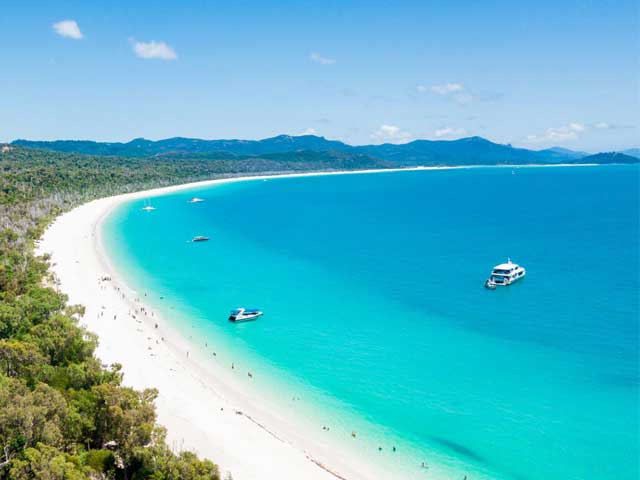 Most Airlie Beach Tours visit Whitehaven Beach and will spend around 2 hours discovering the new south lookout and the beach. This Beach is continually voted Australia's number 1 beach in the Trip Advisor awards. The beach is 7 km long and holds some of the purest silica sand in the world totalling around 98.7%. ZigZag will make sure you get away from the daily crowds and have plenty of time to explore with family and friends. When the boat first pulls up to Whitehaven, you will be served a cold buffet lunch.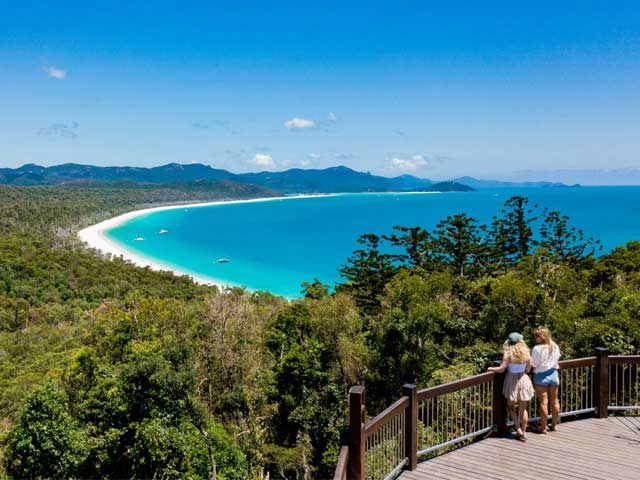 The new South Whitehaven Lookout opened in 2019.
In one direction you will see a spectacular view down the entire 7 km of Whitehaven Beach, and in the other direction, you will see the open ocean and islands leading back to the mainland.
The walk is around 45 mins return (including time at the top) and is beginner grade and you will need a level of low-medium fitness.
In my personal opinion, the South Lookout delivers more wow factor every day of the week while the Northern lookout highly depends on tides and is overcrowded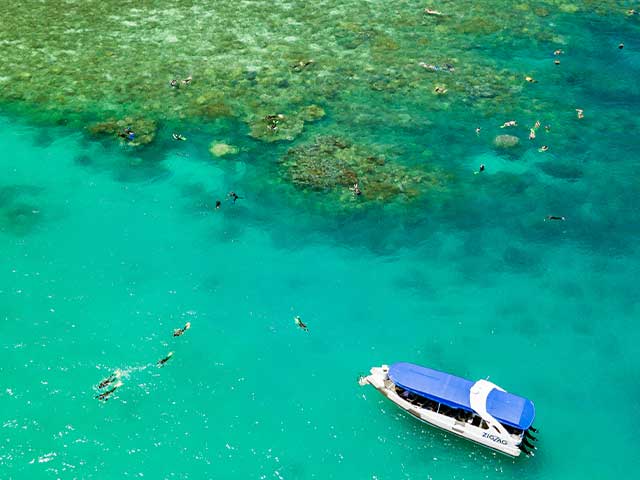 Snorkelling In The Whitsundays
Whether you have snorkelled before or this is your first time, the Whitsunday Islands are perfect for beginners and advanced alike. With the coral bays sheltered from wind and tide and most coral starting only meters from the beach, this is the ideal location for the whole family to see turtles and visit Nemo in a natural environment. On our Whitsundays Day Trip all the snorkelling equipment, including wet suits are provided along with flotation devices if needed. The qualified crew will watch over everyone on rescue boards so you can feel safe and enjoy the best coral and tropical fish the Whitsunday region has to offer.
Before Your Airlie Beach Tour You Can Explore
Airlie Beach Tours and activities are operated from Northern Queensland Australia and are the gateway to the Whitsunday Islands. The town hub has a small 400 meters long central st that sits beside the coral sea. The main street is lined with cafes, bars, hostels, and tourist shops and has plenty of places to eat.
Above the main road on the hill surrounding Airlie is the central accommodation, filled with apartments and motel accommodation with impressive views over Double Cone and Hayman Islands. In between the main street and the ocean is a man-made lagoon, around 200 meters in length, this is a great place to cool of on the hot days with a swim, and with plenty of grass, trees and free BBQ's. A day can be wasted here quite quickly before or after your Tours.
Where do the tours in Airlie Beach Depart From?
Most tours in Airlie Beach depart from Coral Sea Marina. (see the map below)
Why You Should Book ZigZag Airlie Beach Tours
When it comes to taking your family on a Day Trip around the Whitsunday Islands you need to look at a few factors and there is one tour that ticks every box
Fully inclusive price including lunch, snorkeling equipment and stinger-suits
Visit Whitehaven Beach
South Whitehaven Lookout
Amazing snorkel locations
A full-day tour that leaves early and returns late to maximise your experience
the knowledgeable crew that knows the area
owner-operated vessel for that extra service
ZigZag Whitsundays Airlie Beach Tours gives you the most locations at the most competitive price
In Summary, a Airlie Beach Tour should be on everyone's list visiting the region. Here at ZigZag, we see a boatload of happy guests when we reach the beach every day, but the only way to see for yourself is to book one of these tours.
As always if you have any questions about ZigZag Whitsundays Tour , you can head over to our FAQ page or contact us on 07 4813 9007 or bookings@zigzagwhitsundays.com.au
Dynamic Pricing
The only Whitsundays Day Trip with Dynamic Pricing, Tickets Start At Only $159
Comfortable Boat Ride
Comfortable Ride With More Destinations And More Time At Them
Everything Included
Our Tour Is Fully Inclusive Of  Lunch Snacks Snorkel Equipment and Wetsuit.