Whitsundays Day Trip From Airlie Beach
A Whitsundays Day Trip begins in Airlie Beach Queensland Australia.This port is the main gateway to the 74 islands that make up the Whitsundays group. This Tour is on a 39 ft Naiad that takes 36 guests from the town of Airlie Beach to Whitehaven Beach then 2 snorkel locations and on the way home a stop at a secluded Island Resort. Whether your an international visitor or a local Aussie on vacation this is a perfect way to see a stunning slice of paradise.
So if your thinking of coming to the Whitsunday Islands there is only one way to experience this national park on water. Let us introduce you to what you should expect on a Whitsundays Day Trip with ZigZag the newest day tour to run from Airlie Beach
The Boat | ZigZag Whitsundays Day Trip
This is no ordinary boat, at 39 feet long and with 1200 horsepower on the back this is a fast yet extremely comfortable ride. Taking 36 guests in total and 2 crew there is plenty of space onboard to sit down and relax whilst you are speeding through the coral sea to your next destination. With a vessel capable of these speeds, seasickness is virtually eliminated as the vessel rides on top of any waves with no rocking side to side whatsoever, making this Whitsundays day trip perfect any guest worried about feeling sick on the ocean. ZigZag Whitsundays has 4 x 300 hp engines that operate independently, with shallow draft and stairs folding down from the front this is the perfect boat for beach landings.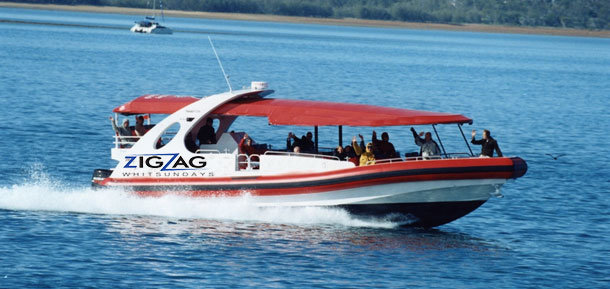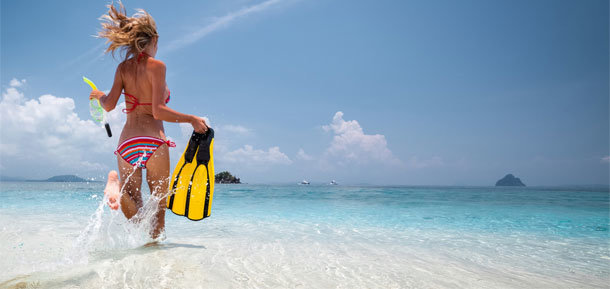 The Whitsundays Tour | ZigZag Whitsundays Day Trip
ZigZag Departs Abell Point Marina in Airlie Beach at 8:30 am. As you board you will be welcomed by the friendly crew introduced to the boat safety features. Departing from Abell Point we will head across the Whitsunday passage to the first snorkel location filled with coral and tropical fish, then on to Whitehaven Beach for lunch and time to explore the magnificent 97% silica sand. Next, there is another snorkel location and then on to Palm Bay resort on Long Island. This is a 45 min stop to have a cold drink, swim in the pool or explore the resort for your next holiday. ZigZag will arrive again at the same port Abell Point Marina around 5 pm.
Whitehaven Beach Tour | ZigZag Whitsundays Day Trip
This Whitsundays day trip will visit Whitehaven Beach. This Beach has just been voted Australia's number 1 beach in the Trip Advisor awards of 2017. The beach is 7 km long and holds some of the purest silica sand in the world totalling around 97%. ZigZag will make sure you get away from the daily crowds and have plenty of time to explore with family and friends. When the boat first pulls up to Whitehaven you will be served lunch of fresh wraps and nibbles. You have around 90 minutes by yourself to take a walk up the beach or just relax and swim, by the time the boat departs you will know exactly why so many visitors come to this iconic beach every year.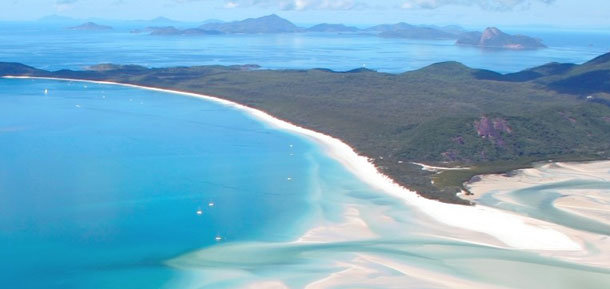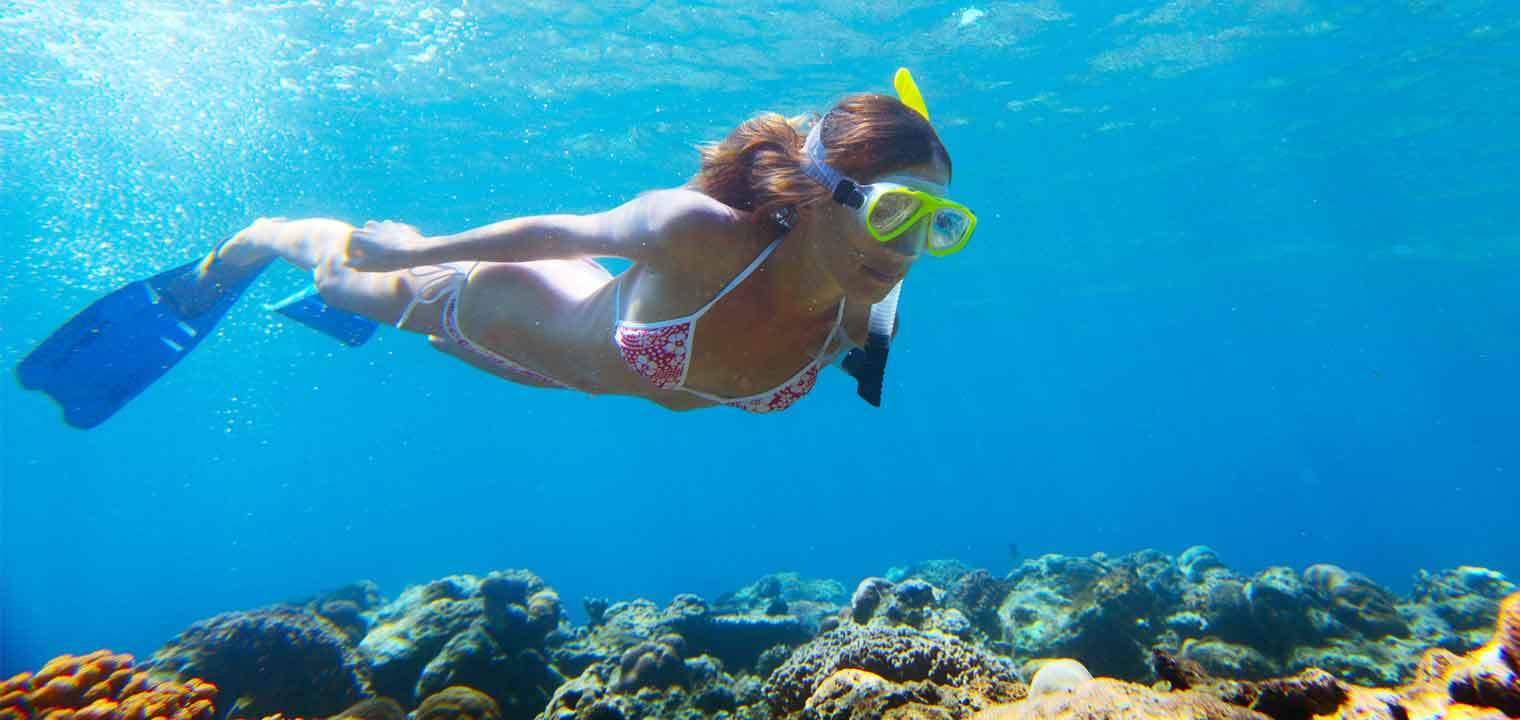 Whitsundays Snorkelling Tour | ZigZag Whitsundays Day Trip
Whether you have snorkelled before or this is your first time, the Whitsunday Islands are perfect for beginners and advanced alike. With the coral bays sheltered from wind and tide and most coral starting only meters from the beach, this is the ideal location for the whole family to see turtles and visit nemo in a natural environment. On your Whitsundays Day Trip all the snorkelling equipment, including wet-suits are provided along with flotation devices if needed. The qualified crew will watch over everyone on rescue boards so you can feel safe and enjoy the best coral and tropical fish the Whitsunday the region has to offer.
Airlie Beach and Whitsundays Accommodation
There is plenty of places to stay in Airlie Beach 80% of the year, ranging from backpacker hostels through to apartments and 5-star luxury penthouses. During the school holidays, the town fills up so think ahead and book early to secure the right room for you. Booking.com has some awesome deals on last minute accommodation or on longer stays. See the deals finder and save some serious money if you plan correctly.
Airlie Beach Lagoon
The Lagoon right beside the main st is the perfect place to hang out before or after your Whitsundays Day Trip. price of admission is free and they even have self-serve BBQ'S for lunch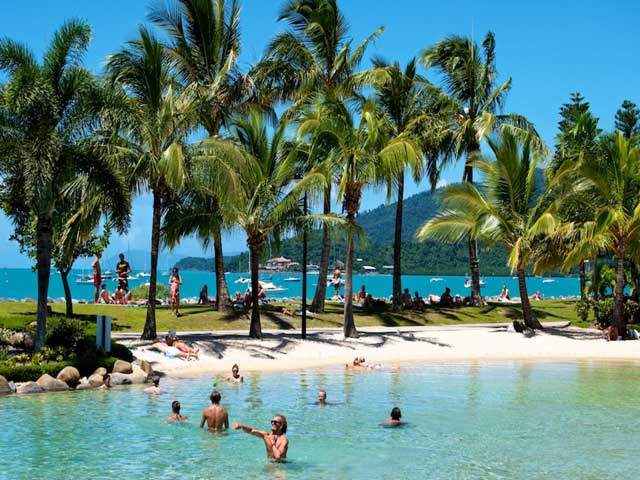 "I still believe in paradise. But now at least I know it's not some place you can look for. Because it's not where you go. It's how you feel for a moment in your life when you're a part of something. And if you find that moment… It lasts forever."
Leonardo Di Caprio, The Beach
Book your Whitsundays Day Trip